What's New!

3/15/2008
If you have received any Charming Tails Print (the ones Dean does) since 2004 - please e-mail me the name, when you received it and where you received it. Thanks!
7/21/2007
I have added a LARGE number of additional Charming Tails to my "For Sale" list. To see what pieces are available, please click here.
8/9/2006
Oak Leaf Publishing announced today a very limited quantity of the 2004 Charming Tails Price Guide are now available to order. To order using PayPal - click here. To order by mail - click here. PLEASE NOTE: There are a very limited quantity of these Guides available. Orders will be filled on a first received, first filled basis until the supply is exhausted. Therefore, it is suggested that your orders be made via PayPal. Any orders received after the supply is exhausted will be refunded or returned.
8/9/2006
Oak Leaf Publishing announced today that due to the discontinuation of the Charming Tails publications and due to their very limited use, the "Message" and the "Buy-Sell-Trade" boards will be removed from this site when they expire this month. I thank all of you who have used them in the past.
2/20/2006
Oak Leaf Publishing announced today that it will not be publishing the 2006 Edition of the Charming Tails Price Guide. In addition, it will not be offering the 2006 Wish List or the update for the Collectibles database. For the complete announcement, please click here.
1/31/2006
2006 Charming Tails Price Guide Oak Leaf Publishing is now offering the 2006 Edition of The Charming Tails Price Guide. This "Part 2" for the Charming Tails Guides offer information and photographs for the Charming Tails pieces introduced between April 2004 and January 2006. In addition to lots of information about these new pieces, the 2006 Edition includes an new Master Index, which lists EVERY Charming Tails piece, its product number, which Guide contains its photograph and their current secondary market value.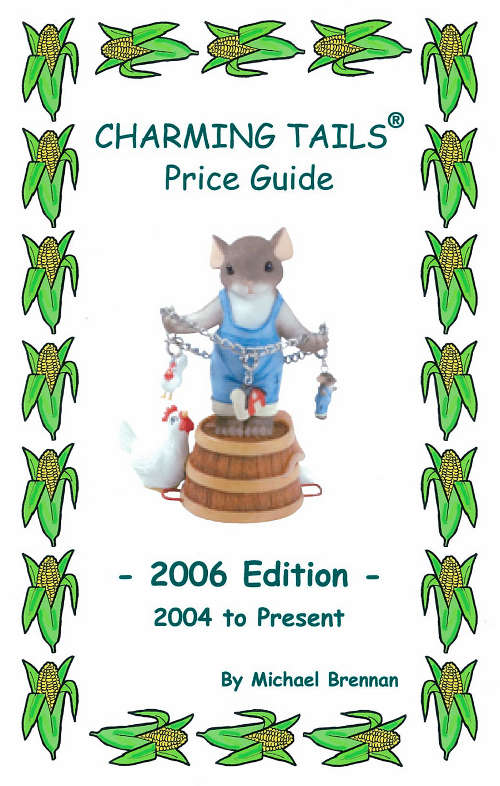 Collectors new to Charming Tails will want to order both the 2004 "Part 1" edition of The Charming Tails Price Guide (which covers the Charming Tails pieces released between 1992 and April 2004) along with the 2006 Edition. But collectors who already have the 2004 Edition will only need the 2006 Edition to "update" their Guides and have reference information all Charming Tails pieces. And - as mentioned above - the 2006 Edition has the current secondary market values for ALL Charming Tails pieces! For more information about both Editions and to order, just click here!
3/16/2005
Pottstown Signing Event Pieces Carlton Cards has announced the special pieces that will be available at the Pottstown Signing Event on April 30th! To check out all the details, just follow this link to the Carlton Cards web site. Scroll down to "Meet Charming Tails Artist Dean Griff!" and click where it says "Click here."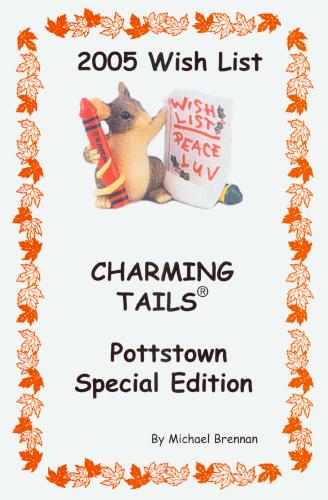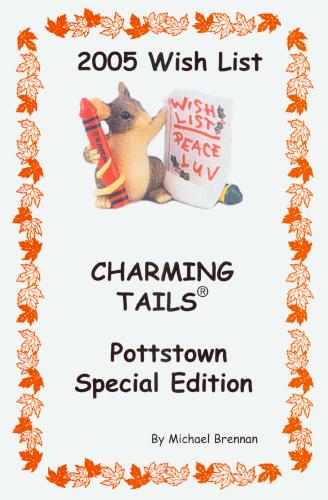 Oak Leaf Publishing is also pleased to announce that there WILL be one special publication this year - a 2005 Pottstown Special Edition of the Charming Tails Wish List! This special edition will ONLY be available through the Pottstown Carlton Cards store! So be sure to call Kathy Boston (or any of the helpful people) at 610-323-6332 to place your order!
2/26/2005
"Sailing By to Say Hi!" We just received a postcard from Fitz & Floyd that features ALL 8 VERSIONS of the Signing Event piece "Sailing By to Say Hi!" This piece will be custom painted and named for each of the eight stores listed on the Schedule of Events that are hosting a Signing Event. (Click "Signing Event" for the full 2005 Schedule.)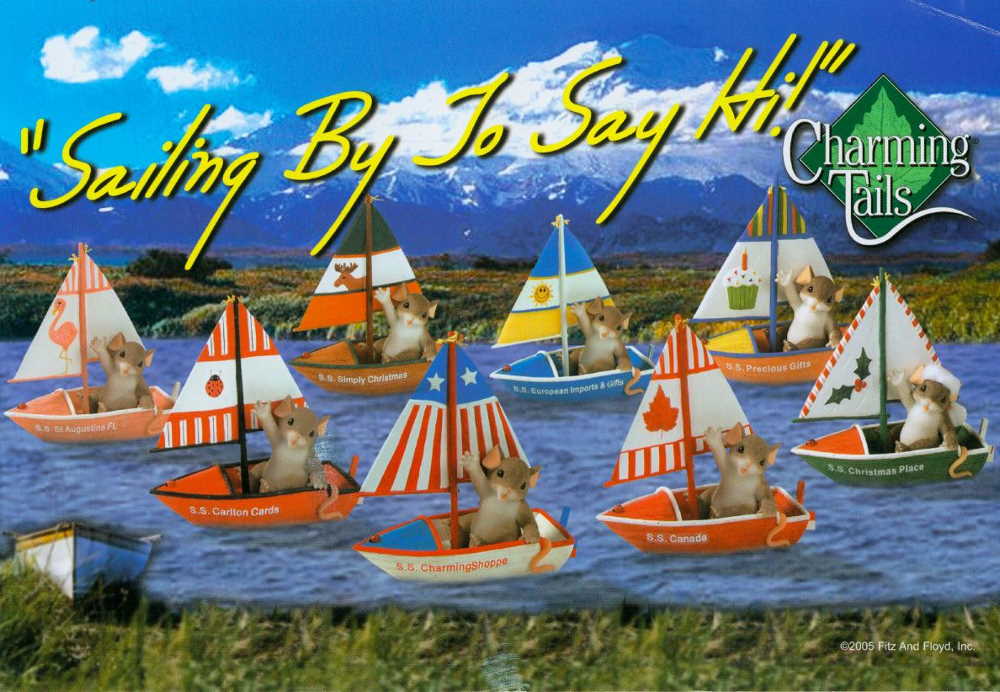 Also - it has been announced that "Hats Off to Love" will be a limited edition of 1,200 pieces and will only be available to purchase at the 2005 Character Events (retail price of $25.00). Check the Signing Event Schedule for a list of the stores hosting these events.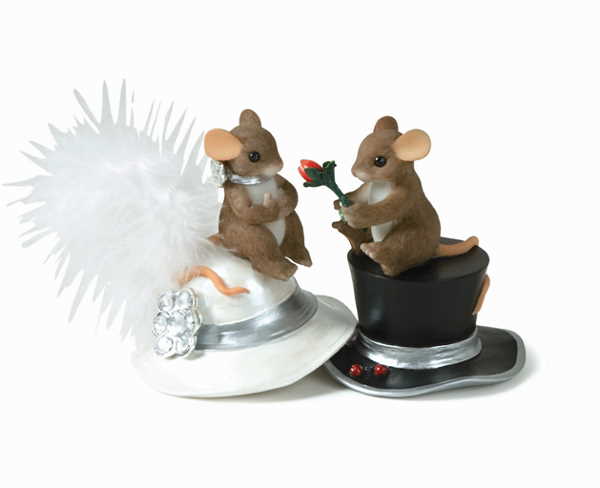 Now - there were four other new "hat" pieces that have been announced so far. Remember - the theme of the Character Events this year is "Mad Hatter's Party" and Dean has apparently designed six hat-themed Gold Signature Series figurines for these events. While "Hats Off to Love" will apparently be available at all 7 Character Event stores, we' re not sure what the distribution of the other 6 hat pieces will be. As we learn more, we'll let you know!
| | | | |
| --- | --- | --- | --- |
| | | | |
| You're My Night in Shining Armor | You're the Chief Purpose In My Life | Hey There Mate! | May Today Be Your Crowning Glory |
November 12, 2005 - ?? Finally - we've been hearing that everyone should keep November 12th open on their schedules. Why? Well, it appears that SOMEWHERE there is going to be a special Collector's Event. We don't know much more about it, but have heard that you will be able to register at the Character Events to win a FULL SIZE version of the Curio Cabinet included in the 2005 Leaf & Acorn Membership Kit - valued at $4,500!! The winner will be drawn at the November 12th Event. And - you apparently can register to win the "goodie bag" from this "Mystery" Event (drawing on November 1st)! So it sounds like even if you won't be able to make it to the Event, you still could win!
1/1/2005
Click here for an important message from Oak Leaf Publishing
2004 Retirement List We have just received a list of all the pieces retired in 2004. Click here for the full listing.
2005 Schedule of Events Several Signing Events have already been announced. Click here for more info!.
12/17/2004
"Embrace Peace" A new piece has just become available - "Embrace Peace". We're not sure exactly what the distribution will be yet, but so far several stores have it for sale. You can call European Imports at 1-800-227-8670; Precious Gifts at 1-800-461-6813 or CharmingShoppe at 714-776-8660. We believe the retail price is $18.00.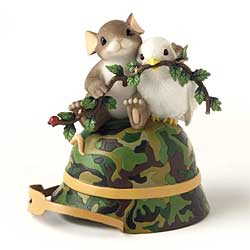 Got any questions? E-mail me!

Check out older news items:
13. January - December 2004
12. January - December 2003
11. January - December 2002
10. July 2001 - Dec. 2001
9. Dec. 2000 - June 2001
8. August - Nov. 2000
7. January - July 2000
6. September - December 1999
5. May - August 1999
4. January - April 1999
3. July - December 1998
2. January - June 1998
1. November - December 1997

Copyright 2005, Oak Leaf Publishing, Inc. All rights reserved. This web site is unofficial and does not intend to infringe on the rights of Fitz and Floyd or Dean Griff, makers of Charming Tails.
Revised: 03/15/08.