What's New! #8


(Older News Items August - November 2000)

Please Note: Some of the links may be out of date since these news items are now outdated. I'm keeping them here for new collectors.
11/29/00
F & F Website: F & F has recently posted two new sections to their website called Charming Questions and Facts & Tails. You can see the information by going to their website @ www.charmingtails.com and at the top of the page click on each link to read the information they have posted.
11/15/00
Canadian Exclusive: F & F has posted the following information found in the Member's Hideaway section regarding a Canadian Exclusive figurine:
Exclusive Figurine for Canada
Fitz and Floyd has been working with our Canadian distributor, Samaco Trading on a special exclusive just for Canada.


"Take Friendship Under Your Wing"©
will be introduced in the Spring 2001. For more information on how to place your order please contact Leslie Cloake @ Samaco Trading in Canada directly at 905-731-3232 or you can e-mail her at lcloake@samacotrading.com

Votive C/H Warning/Advice: F & F has posted the following message on both their Front Page and What's Hot boards. Due to the fact collectors have told me they cannot find the message (poss. AOL server problem?), I have copied and pasted the message so everyone can read it.

Votive Candle Warning/Advice

Fitz and Floyd wants to remind all collectors that it is imperative to use the glass votive holder included with the Charming Tails votives. The glass votive holder is the protective barrier between the candle and the Charming Tails candle holder. Failure to use the glass votive holder or removal of the glass votive holder can result in a fire causing damages and injuries.

The following candle holders all come with a glass insert that must be used.

93/204 Rose Votive
93/482 Maxine Making Snow Angels
93/453 Silent Night Sleigh Ride Votive
93/101 Pumpkin And Squash Votive

11/10/00

Store Exclusive: According to Mark Dudley, his favorite store Precious Gifts from Ellicott City, Maryland has been selected to receive the remaining 1,500 pieces of Love Is Timeless. Precious Gifts is now taking orders by calling 1-800-461-6813 or go to their web site www.gopreciousgifts.com . Thanks to Mike Brennan for sending a photo of Dean's artwork for Love Is Timeless.

10/19/00

Snowshoe Sweetie: Snowshoe Sweetie, the exclusive figurine from Simply Christmas is still available. It was released in the fall of 1999 and limited to 3,000 pieces. You can order this piece by calling 1-800-835-8990 or it can be ordered directly through their web site www.simplychristmas.com . The price is still $17.95 plus S&H.

Monique's Antiques: This morning I spoke with Monique's to inquire about the exclusive Love Is Timeless. They were notified the exclusive was shipping and would be in their store last Friday. However, the shipment still has not arrived as of today. Monique's stated they are only getting half of the exclusives (1,500 pieces) and the other half will be shared by an (unknown) store. They have not been told who the store is and neither has their rep. They also mentioned they never received their Open House Event piece with a long list of disappointed unhappy collectors still without the event piece.

10/12/00

Christmas Dove Signing Oct. 14th: Dean will be at the Christmas Dove from 1pm to 4 pm on Saturday. There is a limit of 3 pieces at a time, but you can go through the line as many times as time allows. All pieces to be signed must be purchased at the Christmas Dove. The store will not allow any pieces from outside the store.

Come early! The secondary tables will be set up for 10 am. There is no charge for the tables, but they are limited and by reservation only. Contact Jean Banks if you'd like to sell cosmo@worldpath.net . Bring your extra sports cards to trade. There will be a trading table for collectors to swap cards.

There will be a special area for collectors to sign up for the new Charming Tails club forming at the Christmas Dove. T-shirts for the new club will also be on sale and Dean will be presented with a club T-shirt. Bring a page or more for the scrapbook....a note to Dean, a picture of your collection and your favorite chocolate chip cookie recipe.

Updated Variation Page: Since June, I've been working daily on updating the variation page offline. This meant that only I could see the new changes, while you had to look at the old page with no new updates. Today I posted the updates so you can see what I've done so far. It is not completed yet, there is still more new updates coming.

No Updates: There will be no new posts to the site for several days. We are leaving early today for New Hampshire (9+ hour trip).

10/06/00

QVC exclusive: The QVC exclusive "Follow Your Dreams" is now being shipped. Collectors have already started receiving them the early part of this week.

Monique's Antiques exclusive: I was informed today that Monique's exclusive "Love Is Timeless" was shipped. The store should have them by next week.

Check It Out: Two lucky young ladies (sisters) received a beautiful Thank You card from Dean.

New Pieces for 2001: The new Giftware line is to be out on retail shelves by December. Surprise! I've got pictures of them and later tomorrow I'll be posting them.

10/03/00

Christmas Loft Exclusive: Santa Imposter is a Christmas Loft exclusive and can only be purchased through the Christmas Loft. The exclusive has arrived in their warehouse and they are currently shipping all orders. Incase you did not order yet, you can do so by calling 1-800-982-6180. Or you can order directly through their website at www.ChristmasLoft.com . You can also order all the Parkwest exclusives through the Christmas Loft. They are a Parkwest retailer.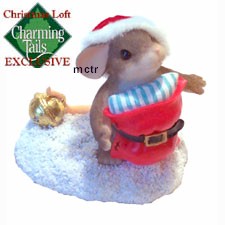 10/02/00
Information Regarding Variation Not Aired On QVC: Rona attended the Niles signing event and found out this information about the mysterious piece "Stuck On You." The piece did make it to QVC before show time. Unfortuanately, it did not make it to QVC early enough to get entered into their system. QVC's policy is "if it's not in the system it may not be shown or sold." Dean knew collectors would be looking for the piece and asked if something could be mentioned during the show, but Mgmt. at QVC didn't want anything said about the piece.
Stuck On You is a Christmas piece so Dean is trying to get the piece aired before Christmas, possibly during another program. If that doesn't work out, Rona said it will be offered when Dean is back again sometime in January. Dean mentioned that everyone does such a good job of spreading the information on things like this, no matter when it will be offered we WILL be notified!
QVC has ordered approx. 1,500 pieces but may be getting an additional 500 to help make it easier for collectors to obtain one. The bow on Maxine's head is gold and when it's released later to the stores the bow will be blue. Rona also gave some more exciting news that QVC would like Dean to appear on air every 6-8 wks.
FLING: Rona mentioned that things are still in the discussion stage yet but Dean will be doing another special art piece for the charity auction. Collectors will be happy to hear that Dean will be doing a larger edition in the charity print that is sold during the swap and sell show. Last years print sold out very quickly so he'd like to see more are available.
9/22/00
QVC Show: Below is a list of pieces offered during the show:

C79869 Follow your Dreams (QVC exclusive limited to 7,500 pieces -
1,800 pieces available @ end of show)
C97727 Reach For The Stars (1,500 pieces available - some remaining)
C79877 Put On A Happy Face (1,200 pieces available - 200 remaining)
Just The Right Size plus Hot Doggin (sold out)
C79876 Be Thankful For Friends (1,500 pieces were pre-signed - sold out)
C79873 Kiss-Mass Lights (1,000 available - sold out)
C77806 Your Cute As A Button (150 pieces available - sold out)
C79878 Holiday Baking (2,000 pieces available - 100 remaining)
C79875 Maxine's Snowball Surprise (sold out)
C77807 You're Pretty As A Picture (sold out)
Special Note: C79870 You're A Reflection of My Affection and C79874 I'm Stuck On You.

It was reported that both pieces would be available during the show as an early debut. I'm Stuck On You was to have 1,500 pieces with a color variation of the bow. Collector's didn't want to miss out on this variation and started calling QVC to order it early, me included. Both pieces were listed in the QVC computers, however everyone was told the same thing, "sold out with no waiting list."
I have received several emails from collectors who are still trying to order this piece nine hours after the fact. I want to assure all collector's that this piece was not "sold out", a very poor choice of words by QVC but wasn't even available for it to be sold out. Collectors have asked Rona to find out what happened to the pieces when she attends the Niles signing event.
There's no doubt in my mind that both these pieces were to be on QVC as they both had item numbers in the system. However, collectors need to understand that sometimes the sources we use are not always informed of changes themselves from within. Hopefully, Rona will find out for us and we'll let you all know the reason.
9/21/00
QVC Exclusive: QVC is now taking orders on Follow Your Dreams item # C79869. You can place your order by calling 1-800-345-1515.
They are not taking any orders on the piece with the special bow of 1,500 pieces called I'm Stuck On You item #C79874. I am told it's possible we may have to wait till the show airs. It's still showing in their computers as sold out with no waiting list. There also is no indication in their computer of Be Thankful For Friends as being a signed piece.
9/14/00
Linda Anderson Exclusive: Mike Brennan sent me a photo of the actual figurine Silent Night, Holly Night. This appears to be the same photo used in the postcard.
This photograph is copyrighted and is reproduced with the permission of Concepts Direct.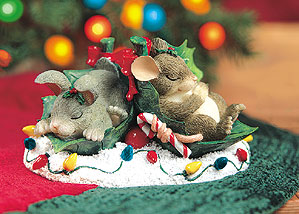 Postcard: Rona sent me a scan of her postcard Silent Night, Holly Night. This exclusive is limited to 3,000 pieces and retails for $19.95. You can place your order now by calling 1-800-272-9236, item # 22-2240.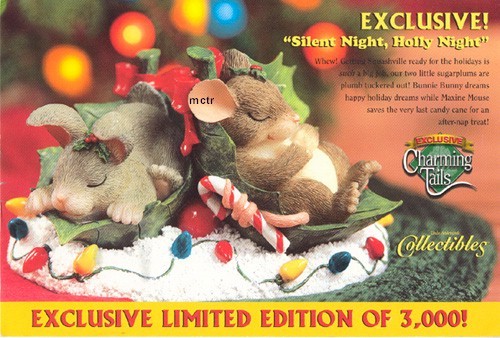 9/12/00
Moniques Antiques Exclusive: I just spoke with Moniques this morning. The official word is they ARE having the exclusive piece called "Love Is Timeless". It is scheduled to arrive in their store around mid October. You can place your order by calling Moniques at 1-856-753-8906. They are taking orders NOW!
Linda Anderson Exclusive: Mike Brennan reported that Linda Anderson Collectibles is now taking orders for their exclusive Silent Night, Holly Night. This exclusive is due to arrive around Sept. 17th. Collectors can expect delivery in about 1-3 wks. after arrival date. You can place your order 24 hrs. a day by calling 1-800-272-9236, item # 22-2240 @ $19.95 each.
9/07/00
Scooter received another postcard from F & F. It looks like the full page advertisement they had in the October issue of Collector's Mart magazine announcing the Open House Event on Oct. 14th and 15th.
8/31/00
QVC Exclusive: Scooter sent me pictures of her postcard she just received from F & F. The show will air Friday, September 22 at 11 AM EST and the piece will be called "Follow Your Dreams".
8/26/00
Collector's Mart Magazine: Mike Brennan sent us an early peak at the ad shown in the October issue of the Collector's Mart Magazine. It announces the Charming Tails Open House piece "A Treasure Of Memories".
8/24/00
Christmas Dove Signing Event: On Oct. 14th Dean will be at the Christmas Dove in Barrington, New Hampshire. To pre-order your signing pieces you can contact the Christmas Dove at www.christmasdove.com.
There will be plenty to do while waiting to get your pieces signed. Plans have been made to include secondary market tables to help collectors find that retired piece and a trading card table to swap your extra sports cards.
They are planning on presenting Dean with a scrapbook at the end of the signing event. Collectors who will be attending the show are asked to bring along a note for Dean, a picture of your collection and your favorite chocolate chip cookie recipe (Dean's favorite).
Anyone interested in joining a new Charming Tails collectors club "The Christmas Dove Gang" should contact Jean Banks at cosmo@worldpath.com.
There also will be club T-shirts available. You do not need to be a club member to buy the shirt. They are on a first come first serve basis so if you are interested you need to get your order in now by contacting Jean Banks at cosmo@worldpath.com.
The cost is $12.00 each plus $2.50 postage for shipping. They are red t-shirts with white lettering that say "New Hampshire Charming Tails, (the Christmas Dove logo) and The Christmas Dove Gang". Jean said they are very pretty and the shirts run in a Men's size. Below is a list of the sizes available:
Small 34 - 36
Medium 38 - 40
Large 42 - 44
X-Large 46 - 48
8/12/00
Sports and Mid Year Releases: The new sports line and mid year releases just started to arrive in certain locations. Within the next week, most stores should have them in stock. I just posted a new picture of one of the new mid year releases called Sleepy-Head to the Master List.
A Warm Woolen Mitten: Here's a sneak preview of the GCC Holiday Open House exclusive for November 18, 2000. It will retail for $19.50 and can be purchased at any GCC store.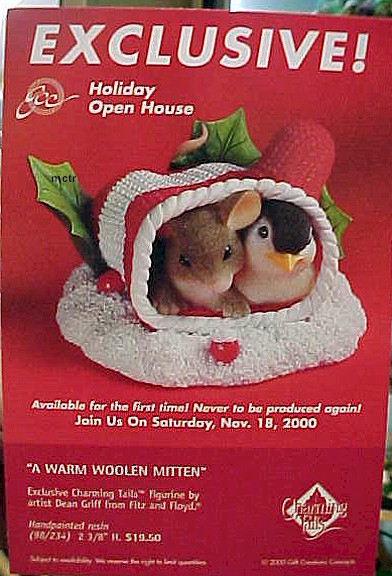 8/08/00
Moniques' Antiques Exclusive: Monique's Antiques exclusive has a new name. It will be called "Love Is Timeless" instead of "Antiques Make the Best Friends". If you haven't ordered your exclusive, you can call the store directly at 856-753-8906 EST.
Gazette Arriving: Collectors have reported that the Gazettes have been mailed out and if you haven't gotten yours yet, it should be arriving shortly. I haven't gotten my Gazette, I live in the wrong part of the country, so this information was given by other sources. Earlier today, I was given the information that the Gazette said the Open House piece was on a first come, first serve basis but that is incorrect. "Christmas Treasures" the Club piece will be on a first come , first serve basis, so get your order in with a Dealer ASAP because when they're sold out, they are gone!!!!!
Also, there are 8 prototypes of the sports line figurines used in the development of the "sculpture" trading cards and F & F will be giving these figurines away randomly over the next few months to lucky Leaf & Acorn Club Members.
Colorful Images: Mike Brennan has posted great information on the Bulletin Board, regarding new items from the Colorful Images catalog. We will now have a Christmas Card to send to all our wonderful Charming Tail collector friends and more labels. Check out his post on the bulletin board! Cat also posted a link on the bulletin board to photos of these items, they are absolutely wonderful!


Copyright 2005, Oak Leaf Publishing, Inc. All rights reserved. This web site is unofficial and does not intend to infringe on the rights of Fitz and Floyd or Dean Griff, makers of Charming Tails.
Revised: 02/20/06.