What's New! #11


(Older News Items January - December 2002)

Please Note: Some of the links may be out of date since these news items are now outdated. I'm keeping them here for new collectors.
12/29/02
2003 Charming Tails List. Since 2003 is just around the corner, I've updated the Introductions by Year (you can click here!) listing to include all the 2003 pieces that have been announced - so far! Hope this handy lists helps you keep track of the ones you have to run out and buy and the ones you can "wait for" - which means having someone else give them to you as gifts! Happy Tailing!
12/01/02
Master List reformatting. As you probably know, the number of Charming Tails pieces is quickly approaching 1,000! Due to a number of considerations, I've decided to split the "Master List of Charming Tails" into two sections: A-M and N-Z. All of the introductory material, including the back-stamp information, is still at the beginning of the A-M section. This will reduce the amount of time it takes you to find the piece you are looking for and will help conserve some of the bandwidth used to download the Master List pages.
11/24/02
Charming Tails Pin List! I've been giving the idea serious consideration for a while, but an inquiry from a collector (Thanks, Tina!) finally pushed me to go ahead and do it: A complete list of all the pins that have been offered as part of the Charming Tails line. Note: This is NOT the metal/photo pins that have been given away over the years as "memorabilia" -- these are the resin pins that have either been sold as part of the line or given to collectors at select special events. To see the list, click on the "Pin List" link in the "List of Pieces" section of the main page, or just click here! Happy Tailing!

11/24/02
2003 Event Announcement! The following information is posted on Charming Dave's web site (I've edited Dave's copy):

Fitz & Floyd will have 4 regional "Charming Tails Collector's Day" events, one each in Spring, Summer, Fall & Winter. Each event will be held in a ballroom or convention center in cities with tourist attractions. There will be games, auctions & events centered on FUN and meeting other CT Collectors. Dean will be at two of the events and MAY attend all four. These are NOT signing events (which we all knew anyway!). Admission tickets for the events will be available only at sponsoring stores (I assume one for each event) for $40.00 and include a limited edition piece called "Tic, Tac, Tails."

The four events are:

3/22/03 - Adam's Mark Hotel - Jacksonville, FL
"Spring Fever" (98/316) will be available at all participating retailers in the Southeast Region (includes states of AL, FL, GA, IN, KY, MS, NC, OH, SC, TN, VA & WV)

5/17/03 - Crowne Plaza Resort - Garden Grove, CA
"Hangin' Tight to Summer Fun" (98/317) will be available at all participating retailers in the Western Region (AK, AZ, CA, CO, HI, ID, MT, NM, NV, OR, UT, WA, WY)

8/23/03 - Chula Vista Resort - Wisconsin Dells, WI
"Soon the Autumn Leaves Will Fly" (98/318) will be available at all participating retailers in the Central Region (AR, IA, IL, KS, LA, MI, MN, MO, ND, NE, OK, SD, TX, WI)

11/15/03 - Atlantic City Convention Center - Atlantic City, NJ
"Dashing Through a Winter Wonderland" (98/319) - will be available at all participating retailers in the Northeast Region (CT, DE, MA, MD, ME, NH, NY, PA, RI, VT)

All four of these pieces will be $22.00 each. No photos are available yet.

I am only reiterating that information which was posted on Dave's site. Stay tuned for more information as it becomes available.

Happy Tailing!

10/13/02
Handy List of 2002 Pieces! It's taken some time, but the "Handy List of 2002 Pieces" is finally available! Please Note: the "photo" links have NOT been updated yet - there are 177 separate pages to create and link, so it is going to take a little time to get them added. We'll keep updating the "Handy List" to keep the links current!
Dean Appears on HSN! OK - so it was at 5:23 A.M. (Eastern time), but Dean made his inaugural appearance on the Home Shopping Network this morning! There was one special introduction - the 10th Anniversary Edition of "The Drifters"! Only 3,000 sets were made, 1,500 being offered through HSN and the other 1,500 sets being offered through select Charming Tails Dealers. So far, G&L Christmas Barn and Precious Gifts are the only two we've heard of - so be sure to get your order in before they are all sold out!
We were just advised -- Collecto-Mania has the Drifters Porcelain sets, too! And so does Simply Christmas (800-835-8990)
09/13/02
Lupus Foundation Charity Walk! Because of Fitz & Floyd and Dean Griff's contributions to the Lupus Research Institute through the "Wish Upon a Star" figurine, and the Lupus awareness and understanding through the 10th anniversary events, the Lupus Foundation of Illinois considers Charming Tails as an official sponsor of its "Life Without Lupus - 5K run & walk" being held on October 5, 2002 on Chicago's Lakefront at Randolph and Lake Shore Drive. This is a first as a charity walk sponsor - and they deserve it! Beth Litke got them to put the Charming Tails logo on the event brochure and on the T-shirts, both of which are must-have items for the dedicated Charming Tails memorabilia collector. Brochures can be requested through the LFI office at (773) 445-7071 or (800) 2-LUPUS-2, or e-mail the Lupus Foundation of Illinois. Extra T-Shirts should also be available through the LFI after the event, but we recommend you participate in the walk to get one. The Charming Tails logo also probably be in ads and other publicity materials in the Chicagoland area.
Click here to learn more about the Charity Walk Event!
Click here to see the Charming Tails logo officially listed as a Sponsor!
You may already know that a portion of all sales of the "Wish Upon a Star" figurine sold by Gifts & Accents will be donated to the Lupus Foundation of Illinois. It gets even better... LauraLea Johnson from Gifts & Accents and Beth will be selling "Wish Upon a Star" figurines at the event. They will even have their own Charming Tails tent. 100% of the proceeds are going to the Lupus Foundation of Illinois!!! A big thank you to Gifts & Accents! (Show them your support their efforts - call and place an order! Call LauraLea Johnson at 800-822-8856 or stop by the store at Metcalf South Mall, 9605 Metcalf, Overland Park, Kansas 66212!)
Even through the cold and rain, last year's Lupus walk was successful. The walk is along the beautiful lakefront in Grant Park. Beth Litke manned the Lupus information tent and her Dad (Paul Litke) was the official photographer of the event. Click here to see some of the pictures from last year. Scroll down to the bottom and see her Dad with his camera.
For more information, e-mail Beth Litke!
09/10/02
September Retirement Announcement! We just got word that a new retirement list was premiered at the 10th Anniversary Event held this past weekend at Simply Christmas in Estes Park, Colorado. Here's the list:
Angel of Light - 87/481
L'il Drummer Mouse - 87/480
Booo! - 85/417 (Also retired in 2001!) : )
Manger Animals - 87/482
Bubbly Brew - 85/102
Ornament Holder - 14" - 86/99
Christmas Pageant State - 87/546
Put on a Happy Face - 85/100
Cup of Christmas Cheer, A - 86/796
Silent Night Votive Candleholder (Giftware) - 93/505
(Renamed "Holly Daydreams Votive Candleholder" in 2002)
Dive into the Holidays - 87/208
Squashville Shepherds - 87/710
Everybody Sing - 87/102
Stack O' Lanterns - 85/416
Hocus Pocus - 85/880
Three Wise Mice - 87/548
Holy Family Players - 87/547
What a Hoot! - 85/101
08/26/02
Personal Web Sites: In an on-going effort to update all the MANY links throughout the site, I have removed a number of links in the "Links to Online Stores" area that were listed under "Personal Web Sites with For Sale Lists." This is because the links were dead and no longer reach the page indicated. A big THANKS to Bobbi from Las Vegas for checking out the links and reporting those which don't work! Thanks Bobbi!
HOWEVER - this is a great way to let other collectors know the Charming Tails pieces you have for sale. So - if you have a personal (not commercial) web site which includes a list of items you have "For Sale" - please e-mail me and I'll be happy to add your site to the list.
As always - if you are aware of any new Charming Tails Dealers, let me know and I'll add them to the "List of Stores". AND - if you know of GCC or NALED Dealers, or if they have an on-line inventory, or even just a web site - LET ME KNOW and I'll add them in the "List of Online Stores" area.
08/24/02
Exclusives - at Retail Price!: I just spoke with Kathy Boston, the Manager of the Carlton Cards Store in Pottstown, PA (610) 323-6332 and found out the the following Exclusives and Special Editions are still available -- at their original retail price:
"Enjoy Life's Voyage" (Green Leaf) (85/504) - $20.00
Exclusive to the Pottstown Carlton Cards store, only 984 were made with a green
leaf. The regular release has Mackenzie riding in a brown leaf.


"Friends are a Bushel of Fun" (Light Tan Basket) (85/505) - $20.00
Exclusive to the Pottstown Carlton Cards store, only 984 were made with a light tan
basket. The regular release has Mackenzie, Binkey & Reginald (see - Reginald is still around!) sitting in a dark brown basket.


"Showered with Friendship" (Black understamp) (98/205) - $21.00
Exclusive to the Pottstown Carlton Cards store, only 800 were made with a black
understamp. The remaining 2200 in this issue were released with a gold understamp.


"You've Really Grown on Me" (Blue flower) (888/111) - $18.00
Exclusive to the Pottstown Carlton Cards store, only 600 were made with a Mackenzie holding a blue flower. The regular release (coming in 2003) has Mackenzie with a
purple flower.


"Mom, You're Sitting Pretty" (Set - figurine & pin) (98/292) - $24.00
A Carlton Cards (all stores) exclusive for Mother's Day 2002 - limited to 3500 pieces.


"A Love Like No Other" (Red bow) (98/261XMAS) - $19.00
Exclusive to the Carlton Cards Stores in 2001, only 1000 were made with a red bow
on the back of the chair. VERY LIMITED QUANTITY AVAILABLE!


"We Make Beautiful Music Together" (98/223) - $18.00
This piece was the 2000 Signing Event Piece! What a chance to get a 2000 piece at retail price. VERY LIMITED QUANTITY AVAILABLE!


"Moms Give the Best Hugs" (98/228) - $17.50
This Mother's Day 2000 (!!) piece was exclusive to the Carlton Cards Stores.
ONLY ONE PIECE AVAILABLE - this is one of the very last ones available at retail!
So - if you've wanted to add any (or all!) of these special editions to your collection, but didn't want to pay secondary market prices -- here's your chance! Just call (610) 323-6332. The Carlton Cards store also has a great selection of other Charming Tails pieces - including many new ones.
By the way - for those of you who are waiting for the Pottstown exclusive print "Mom, You're Sitting Pretty" (only 300 are being made!), the final approval has been given and they should begin shipping in late September or early October. Kathy says, "Thanks for your patience!" If you have NOT pre-ordered this print ... sorry, it is sold out.
"List of Stores" Updating: As you may have noticed, I've been getting LOTS of "update" information from collectors around the country (and Canada, too!) about stores that carry Charming Tails. THANKS to all of you for the info - there's just not enough time for me to check out each one. Unfortunately, most of the "updating" has been deleting stores that no longer carry Charming Tails. I would love to ADD stores to the lists - so if there's a favorite Charming Tails Dealer in your area that isn't on the list, please let me know!! Just list the store name, address, telephone number, a web site (if they have one) and a short description of what they have (retired pieces? GCC? NALED? etc.!) and I'll get it posted. This is done at no charge to the stores - so please let us know what stores should be listed.
I have taken some time (as have several collectors - particularly Coral Burow - Thanks Coral!) to check web addresses and links to stores with web sites. Many of the links are "dead" or lead to something other than the store, so I have deleted those links. If you come across a link for a store that no longer works, again, please let us know. Just e-mail me and I'll remove the link. Or - if you know the web site address has changed, I'll go ahead and correct it.
08/19/02
Ooh's & Ah's Auction Update: The streamers are down, the confetti has been swept up! But from all the reports - the latest Charming Tails 10th Anniversary Event at Ooh's & Ah's in Las Vegas was a smash hit!. In addition to all the Event activities, they also had a Charity Auction (as if Frances didn't have enough to do!). Click Here for photos of the prototypes that were won - both in the auction and as door prizes!! A BIG THANKS to Talli Ruksas for providing the pictures!
It was mentioned that someone indicated at the 10th Anniversary Event that Reginald was "on hiatus". Well - we've checked with Fitz & Floyd and are very pleased to report that this is not true! Reginald, along with all our other favorite Squashville residents, are still happily living in Squashville! No "long vacations" or "moving sales" to worry about! After all, Reginald is too close a friends of Maxine & Mackenzie to even consider finding another village to live in! SO - we can all breath a sigh of relief. Whew - when these rumors start to fly, it can get scary! Fortunately, Reginald's next appearance will be to "scare us" - but in a fun way - on Spooky Brew. Click Here for a picture of this up-coming Halloween early release!
08/17/02
Ooh's & Ah's Auction: Today is the Charming Tails 10th Anniversary Event at Ooh's & Ah's in Las Vegas. As mentioned earlier, they are having a Charity Auction today from 9AM to 1PM (Pacific Time). Click Here for a list of the Charming Tails items that you just might be adding to YOUR collection!!
08/15/02
More Updating!! Check out the "Introductions by Year" section. Both the 2002 and 2001 listings have been updated to include all released or known pieces to date.
And - we're continuing to update the "List of Stores" and greatly appreciate the many collectors who have let us know about stores that have closed or no longer carry Charming Tails, as well as new ones! Check out both sections!!
08/13/02
Ooh's & Ah's Auction: The word is out! Here are some of the items that will be featured in Ooh's & Ah's auction THIS SATURDAY during their Charming Tails 10th Anniversary Event:
1. Office Gift - Pen: this is a prototype and a ONE-OF-A-KIND!
2. Chickie Chariot Ride: this prototype features a blue flower over the chariot. The final version has a white one.
3. It Takes Two to Tango: again, a prototype. This time with different tails then the released version.
4. "King of My Heart" AND "Queen of My Heart" PLUSH Prototypes: these were never produced, so this is probably you ONLY chance to get them!
Remember, all the proceeds from the auction go to charity. So, as they say, "Bid Often ... and Bid High!" There will be lots of other great items in the auction, including Cherished Teddies prototypes (expected to be included) and other exciting giftware items! The auction is between 9AM and 1PM, so call (702) 870-2078 or e-mail them at: oohsnahs@aol.com if you need more details!
08/10/02
Squashville Gazette: The Summer 2002 issue of The Squashville Gazette has arrived! If you haven't received your copy yet - keep an eye on the mailbox. As always, this issue is filled with lots of articles and pictures - all the "Travels with Mackenzie" figurines, the three new "Family Ties" pieces ("You're the Best Hook, Line and Sinker" - 89/136; "You Bake Me Happy" - 89/137; and "My Love for You Will Never Grow Old" - 89/138), and lots, lots more! There is news about 4 prints that will be offered through Charming Tails Dealers next year - one for each of the four seasons. And Congratulations to Pam Reidinger and all the gang at "A Mixed Bag of Nuts", who are featured as the newest local Charming Tails Club. (They are in Ohio, but have members from all the surrounding states. Go to A Mixed Bag of Nuts web site for more information.)
Plus, there are two full pages of photos of pieces retiring this year. Here's the list in alphabetical order:
| | | |
| --- | --- | --- |
| Abundance of Love, An - 84/107 | Give Love a Shot - 84/109 | Mow, Mow, Mow the Lawn - 83/809 |
| Adventure Bound - 83/100 | Give Luck a Shot - 83/106 | New Arrival - 97/717 |
| Along for the Ride - 89/100 | Good Cheers - 87/801 | Ready to Take a Swing at It - 87/804 |
| Buried Treasures - 83/806 | Hang Ten - 83/103 | Real Lifesaver, A - 83/104 |
| Catching Fireflies - 83/102 | Happy Birthday - 97/715 | Spare Me - 87/805 |
| Chickie Chariot Ride - 88/100 | Hear, Speak, See No Evil - 89/717 | Take Two Aspirin ... - 89/103 |
| Congraduations - 89/106 | Home Is Where the Heart Is - 89/126 | Touchdown - 87/806 |
| Dandelion Wishes - 89/107 | I Get a Kick Out of You - 87/802 | Two Love - 87/807 |
| Day at the Lake, A - 83/803 | I'm Here for You - 89/706 | Wash Away Those Worries - 89/111 |
| Ducky Weather - 88/101 | Keep Your Eye on the Birdie - 87/803 | Waterslide, The - 87/384 |
| Follow the Bouncing Ball - 87/800 | Maxine's Butterfly Ride - 89/190 | You Add Color to My World - 88/109 |
08/09/02
Ooh's & Ah's: On Saturday, August 17th, Ooh's & Ah's will be hosting both a 10th Anniversary Event and their 5th Annual Charity Auction. The Auction will be from 9 AM to 1 PM. As they have in the past, they will have a large variety of donated items as well as some great collectible items up for auction. They have announced that they will have Charming Tails prototypes and some retired Charming Tails pieces, signed by Dean Griff. They have also been promised some Cherished Teddies prototypes, Hotel stays, golf outings and lots of gift items.
This will be a Live Auction and phone calls will be welcome until 1 PM or until the bidding stops. Call or, if in the area - stop on by! Note: Ooh's & Ah's WILL ship to Canada! (Yeah!) Remember - Ooh's & Ah's is also the only Charming Tails Dealer offering the blue version of Jackpot (#882/116). We don't know if they have any more in stock (only 1,000 were made in blue) - but when you call, be sure to ask about it!
If you want more information about the Charming Tails Event or the Auction, call (702) 870-2078 or e-mail them at: oohsnahs@aol.com.
Ooh's & Ah's Collectibles is located at 4620 Meadows Lane, Las Vegas, Nevada
08/06/02
"Protector of Freedom" update: Many of you probably have heard about the latest special edition, "Protector of Freedom." While this piece is primarily only available through AAFES stores (on military bases), Fitz & Floyd were offering Leaf & Acorn Club members (only!) the chance to purchase one (only!) through their web site. However, today Fitz & Floyd announced:
"Last chance for Leaf & Acorn Club Members to order the AAFES exclusive 'Protector of Freedom' at the cost of $19.00. Since we [Fitz & Floyd] still have some stock available we will now allow Leaf & Acorn Club Members to order up to 2 more pieces each. When ordering the item you must type your Leaf & Acorn Club member number in the special instructions. This offer is good thru Sunday, August 11th."
If you want to order 2 more of this exclusive, just go to the Charming Tails web site (www.charmingtails.com). Click where it says, "Click Here" to Purchase a Limited Selection of Charming Tails on-line. Then click on "Charming Tails." The "Protector of Freedom" piece is NOT identified - it is the THIRD item on the FIRST page and is listed as, "Everyday/Life Expressions MEMBERS ONLY - SEE MEMBERS HIDEAWAY." Just indicate how many you want (limit of 2) and then click on "Add To My Cart" at the bottom of the page. Be SURE to include your Leaf & Acorn Club Membership Number in the "Special Instructions" area!
We checked with Fitz & Floyd and found out that, even if you already ordered "Protector of Freedom" on-line from Fitz & Floyd before, you may still order "2 additional" pieces. Cost is $19.00 each and, with shipping of $8.00, the total comes to $46.00. Of course - there are lots of other great pieces available on-line, so feel free to add them to your order, too!
Store Listings: Several collectors have been providing updates on stores listed in the "List of Stores" area. Three stores have been "de-listed" because they are closed or no longer carry Charming Tails: Waller's Holiday Korner in Plant City, FL; Christmas Magic in Wiscassett, Maine; and the Ingunity Country Store in Keene, New Hampshire. We greatly appreciate this information and, should you be using the "List of Stores" and find a store that needs to be deleted, please let us know. By the same token -- if you know of a store that is not listed (and should be!), let us know that, too!!
08/05/02
"Updating": As you can imagine, updating this entire web site is a major undertaking, one which we're sure will take a while. However, we've already begun working on making all the information as current as possible. So - be "on the lookout" for the

symbol - it will indicate where we've started updating some of the site's information. If you have any information that isn't on this site - please e-mail us! Thanks (especially for your patience!)
08/01/02
Site Change: As of today, Oak Leaf Publishing, Inc. has assumed operation of the Charming Tails Resource website. As you probably noticed when you came to the site, the web address has changed. If you have not already done so, please note the the new web address: www.OakLeafPublishing.com. We hope to continue bringing you all the latest Charming Tails news, as well as on-going development of the tremendous resource of information the site contains. Of course - we are always anxious to hear from you. So if you have any comments, suggestions, ideas or news to share, please e-mail Mike Brennan at CTauthor@OakLeafPublishing.com.

Our very first priority will be to make this "What's New!" page active again. SO ... if you hear of any news, or have scans of pictures we should post, please LET US KNOW!! Just e-mail us with your tidbits, pictures or whatever you want to share and we'll get it posted as quickly as we can.

This site would never have been possible without the tremendous amount of time and effort put into it first by Michelle Walker and then by Becky Luckenbill. So let's all give them a BIG round of applause for all the work they have done over the years.

As we all know, this site was inactive for a while. We realize there is much to do and will be making every effort to update the site, along with making any necessary additions. However, please keep in mind that I have a full-time job and the publishing business to manage ("social life"?? What's that??). I will do my best to update the various listings when I can, but your patience is (and will be) appreciated. Of course - if you notice anything that needs to be added, corrected, up-dated, etc. -- again, just LET ME KNOW!

The Charming Tails Resource Page is loaded with valuable information - so please explore! And - we hope to be able to bring you lots of new information - along with a few new ideas and surprises!! Thanks for stopping by - be sure to update your "favorites" - and be sure to check back often! And, as always -- HAPPY TAILING!!!
04/19/02
Exclusives With Passport Stickers: In the June 2002 Collectors Mart Magazine, F & F announced several new limited edition figurines to be released. Each figurine will come with a special stamp to place in our Leaf & Acorn Club Passports. The first 3 photos are to commemorate historical places. Thanks to Mike Brennan for the photo breakdown.
| | | |
| --- | --- | --- |
| Little Lady Liberty | Mardi Gras Mouse | Mouse Rushmore |
| | | |
| --- | --- | --- |
| High And Dry | Jackpot | A Star In The Making |
| | | |
| --- | --- | --- |
| Let Freedom Ring | What's Shakin' | Country Singer |
Below is a photo from the full page add on page 23 in the Collectors Mart Magazine. Thanks to Nancy Roth for the photo.
Exclusive Print: Dean is doing an exclusive print this fall for Carlton Cards limited to 300 prints. It will coincide with their Mother's Day figurine "Mom, You're Sitting Pretty." It can only be purchased at the Pottstown store. They are taking orders now, call 1-610-323-6332
QVC Show: Dean will be appearing on QVC with a live audience on Monday, May 20th from 11AM - Noon. Tickets are limited to this show so call early to reserve yours! More details only any exclusives when they become available.
LINDA ANDERSON EXCLUSIVE: The 2002 spring exclusive is called "Pen Pals" and is limited to 3,000 pieces. The figurine retails for $17.95. When you call, give the item # 28-7822. You may order now by calling 1-800-272-9236.
Charity Exclusive Shipping: Be on the lookout, Ooh's and Aah's in Las Vegas is now shipping their exclusive piece called "Jackpot." It is an early release of 1,000 pieces with a color change, the slot machine is done in blue. For those who seek out differences, when both mine arrived the titles were printed differently. The letter J is done on one in upper case and the other piece in lower.
Signing Event: Carlton Cards will be having their signing event on May 18, 2002 from 12PM - 3PM. To date, this is the only signing event scheduled this year. The mall opens at 10AM so plan on coming early to pick out your pieces. Enter through the Boscov's entrance, the store is located in that wing. There are no outside pieces allowed, only pieces bought the day of show from the store will be signed. Bring your 2002 Club passport along so the Carlton store can stamp it.
The following pieces will be exclusive to Carlton for their show:
Carlton Mother's Day exclusive figurine called "Mom, You're Sitting Pretty" with pin.

"Enjoy Life's Voyage" will have a color variation. A green leaf vs. brown leaf when issued later in the year only 984 produced.

"Friends Are A Bushel of Fun" will have a tan basket vs. two toned basked when issued later in the year only 984 produced

"You've Really Grown On Me" scheduled to be released in 2003 will be an early 2002 release of 600 pieces stamped with the 2002 mushroom mark.
The signing event piece for 2002 will be "Showered with Friendship." Only 3,000 pcs. are being produced, 2,200 will be split between the 10 designated stores sponsoring the 10th Anniversary Events and will have a gold signature stamp and Carlton will be receiving the remaining 800 without. The Carlton piece will be more valuable because less are being done of this piece and most will have Dean's signature. However, I'm going to include both versions because this is also the first time Dean's signature will be done in gold.
You can place your order by calling 1-610-323-6332
03/20/02
GCC Open House: This years GCC open house piece is called "Sleepy Blossoms.". It features Mackenzie & Bluebird sleeping in a nest. This special piece can only be purchased at a participating GCC retailer. The event is scheduled for May 4th.
Many Thanks: To everyone who sent messages and cards on the passing of my mother in law. They were greatly appreciated!!!
03/15/02
Charming Tails News: The following items are sold out for this year:
84/117 Romantic At Heart

88/106 Home Tweet Home
The following items have been retired:
81/5 Charming Tails Everyday POP Displayer

86/102 Holiday Baking Ornament

89/103 Take Two Aspirin And Call Me In The Morning

89/190 Maxine's Butterfly Ride Ornament

97/715 Happy Birthday

97/717 New Arrival
For those wanting information or having a problem with the Charming Tails Club, here is an "instant" get through number to call 1-877-435-2582

The following blown glass ornaments will not be included with dealer prepacks and are not available.
95/126 Star To Guide You

95/134 Rubber Ducky

95/135 Fluttery Friends
There have been several price increases here is one of them until I can find my paper with the rest:
03/14/02
Key Chain Project: Just received photos from Jean Banks of the key chain she presented to Dean at the Fling. Jean wrote the following message to everyone who participated:
Thank you for participating in the Key Chain Project for Dean Griff! He was very surprised and said to tell everyone "Thank You Very Much" and that he loves it! Thank You Again! Charming Tails Collectors are the best. Jean Banks
| | |
| --- | --- |
| Jean's son Billy with Dean holding the keychain | Key Chain |
Looking Back on 2001: This site was formerly under the ownership of Michelle Walker for nearly 3 yrs. when I inherited it in July 2000 with slightly over 143,000 hits on the counter. Because of the many collectors who click on this site in search of Charming Tails information, I am thrilled to announce it surpassed over 100,000 hits in its first year. Thank you all for making this site so successful and keep on clicking!
Almost Done: We are finally winding down with our remodeling project. I think Charlie's losing his patience with me as I'm unloading the same curio for the 3rd time in less than 4wks. to be moved. Gosh, I just can't make up my mind were it looks best.
All I need is one warm day (hopefully this afternoon) to paint the trim and chair rail & for Charlie to put it up, then the bathroom is finally finished. It would have been done long ago had the highly recommended floor tiler I hired not been a 2 man wrecking crew. They put the wrong color grout on the tile and had to dig it out, getting black grout all over their hands, clothing and shoes. They touched the newly painted walls, new white vanity and than took a rag to wipe off their hand marks on the new tub smearing black grout across the new tub caulking. It took me hours to clean up the kitchen tile and the LR carpet was black tracked straight to the front door.
The LR project wasn't quite as bad, however Charlie tried to give the drywaller curly hair. He forgot to tape a live wire & while on his metal stilts spackling the wall touched the live wire, OUCH! The LR is finished, however we are doing stenciling on the walls. We just finished doing one wall with a 5 foot pink dogwood tree. Still have things to add around the tree such as a hummingbird, butterfly and bee and maybe something around the bottom. All things to think about for a rainy day. Then on to the next wall.....here's a peek!
03/13/02
What's New: I recently posted information about the charity piece Wish Upon A Star, click on the link.
2002 Signings & Events: I just posted information regarding signing events for 2002, click on the link. There may be more added later as I get the information. F & F is working on a QVC show to again coincide with the Carlton show, however its not confirmed yet.
Thank You: Recently I posted a handful of names of several states in hope of finding a fellow collector whom resided in one of them. As usual, collectors came through to help out in the time of need. I can now tell everybody why we were looking for this help.
This years Club is about traveling and fellow collector Jean Banks came up with a great idea. She made a rope chain and asked collectors from every state to donate a keychain from their individual state and attached it to the rope.
During the Flamingo Fling, Dean was presented the rope chain. It had so many key chains hanging from it he probably needed help to lift it up. Unfortunately, I did not make the dinner so I have no photo of the key chain rope. I did get to see it, Yvette Starr showed it to me during the Swap & Sell. I'll see if I can track down someone who hopefully got a photo of it so either I can post it or someone else can get it posted. What a great idea Jean!
02/06/02
Parkwest Exclusive: Not only is Precious Gifts taking orders for their CT exclusive "Spring Cleaning," they are now taking orders for the Parkwest spring exclusive called "Dust Bunnie." You can place your order by calling 1-800-461-6813 or check out their website at www.gopreciousgifts.com
Carlton Signing Change: I have been notified Carlton has changed the amount of the 2003 early release for their signing event "You've Really Grown On Me" to 600 pieces rather than 1,000 pieces. I had an up close peak of the prototype and the photo I posted does not do it justice. It is absolutely the cutest.
01/31/02
Store Exclusive: Precious Gifts in Ellicott City, MD is now taking orders for their store exclusive called "Spring Cleaning." You can order this piece by calling 1-800-461-6813 or check out the photo on their website at www.gopreciousgifts.com . It will retail for $18.50 and is limited to 3,000 pieces.
Charming Tails 10th Anniversary Celebration Event: Below are 2 names of stores I can now post that are one of the 10 selected stores having this event. I will post others as they are confirmed with dates:
June 1st - Collecto-Mania Texas 1-888-686-2642 or 281-353-9233 website address: www.collecto-mania.com

July 20th - Precious Gifts, Ellicott City, Md. 1-800-461-6813 or www.gopreciousgifts.com

August 3rd - Gifts and Accents, Overland Park, Kansas 1-800-822-8856

October ?? - G & L Christmas Barn, Conn. 1-888-737-5600

October 12th - European Imports, Illinois 1-800-227-8670 website: www.europeanimports.com
01/30/02
10 Year Celebration: I've heard some news there will be a special event taking place this year to celebrate the 10th Anniversary of Charming Tails. F & F has selected 10 top retailers for these events to be held sometime around late summer early fall. Please note: this is little tidbits of info I've heard. This info has not been verified for accuracy. I'll update it as I hear more on this celebration as things do change.
Collectors will be able to purchase the 2002 signing event piece with a gold embossed stamped signature via the phone. There will also be a special piece designed for the 10th year anniversary with the animals drawing Dean instead of the usual Dean drawing them. To get this special piece, collectors must be present at the event to be able to purchase it and is only available the day of the show. I have names of several of the selected stores but its far too early to post them they're not ready for us yet.
Dean will not be in attendance at any of these events. The elusive and much desired Mouse On Dragonfly (only one) will be displayed in a glass dome at each event. At the end of the events one lucky collector will be the recipient of this treasured piece.
I've received info on another store exclusive and something special that will be done in the fall for another store. This info will come later until I get clearance to report it from the stores!!!
01/27/02
QVC Show: On January 29th, Dean will once again appear on QVC. This is the 2nd Anniversary of Charming Tails. The airing times are scheduled at 2:00am and 3:00pm (EST). Here are the 3 QVC exclusives to this show:
C0080 "Flowers For A Friend" exclusive figurine $19
C0090 "Mom, You're Beautiful" Plush QVC special price $21.00
C0089 "Who's Going To Fill Your Shoes" Plush QVC special $21.00
As in past shows, we have been allowed to order early. You can go to QVC's website at www.qvc.com keyword Charming Tails to see the items available from both past shows and the show that will be airing on the 29th.
There are a few items on the QVC list other than the exclusives mentioned above that may be of interest to collectors. The Dancin' Darlings Musical which is not a QVC exclusive but is limited in production to only 2,000 pieces. However, if you purchase it use caution in unpacking the musical it's very delicate. There is a new set of 4 Spring Garden lapel pins that I will try to find out if they will be released to all retailers or if the QVC pins will be different from the retail world.
You can place your order now by calling 1-800-345-1212 or order online at www.qvc.com .
QVC Plush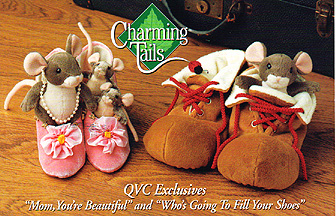 St. Jude's Charity Piece: Ooh's & Ah's in Las Vegas will be selling an early release of 1,000 pieces exclusive to their store called "Jackpot Blue." The proceeds will be donated to St. Jude's as their choice of charity. This piece will be special and more valuable than the later release because it will be done with a different color than the piece that will be released later in the year. You can place your order by calling 702-870-2078.
Canadian Spring Exclusive: This spring the 2nd Canadian exclusive will be released called "Going Camping, Eh! This piece can only be ordered by a Canadian retailer. Click on the link for a list of Canadian retailers to order this exclusive.
01/25/02
Update on Signing Event: There has been a change since I reported last week on the 2 pieces that were going to have the signature stamp mark. Instead of having the stamped signature, F & F is doing a color change to these same 2 pieces. There will be 984 pieces produced of each piece and they can only be purchased through Carlton. No other store will have these color changes. They are taking orders now, 610-323-6332 or email Cotlet@aol.com .
85/504 Enjoy Life's Journey - 984 produced with green leaf (will be released later with brown leaf)

85/505 Friends Are A Bushel Of Fun - 984 produced with a tan basket (will be released later with a two tone basket)
There will be another piece exclusive to the show called "You've Really Grown On Me" which is not scheduled to be produced until 2003. This piece will have 1,000 pieces stamped with the 2002 production mark (mushroom) and will bear a 6 digit item number 888/111 to designate its early release to Carlton. When released in 2003 it will have the 2003 production mark and a 5 digit item number 88/111.
Carlton will have another Mothers Day exclusive of 3,500 pieces called "Mom Your Sitting Pretty" which includes a pin, item # 98/292 will retail for $24. The 2002 signing event piece is called "Showered With Friendship" item #98/205 retails for $21.00.
All the Halloween and Autumn pieces will be available for the signing event and make sure you bring your passport along from your 2002Club Kit to be stamped at the signing event. It is important to note that this is the only signing event scheduled for 2003 as of this date. I will let you know if any others will be added. Other details will follow!!!
98/292 Mom You're Sitting Pretty
(comes with pin photo coming later)
(2002 Carlton Mothers Day Exclusive of 3500 pieces)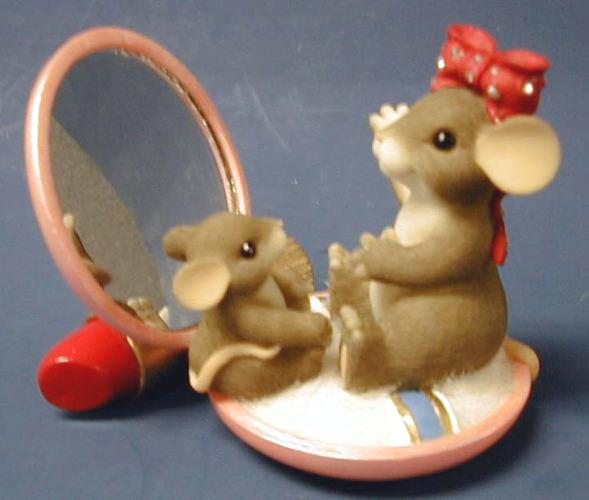 98/205 Showered With Friendship
(2002 Signing Event Pc)


888/111 You've Really Grown On Me
(2003 production pc for 2002 early release with different item number and production mark for Carlton)


01/17/02
Signing Event: The first signing event in 2002 has recently been finalized. It will be on May 18th (time yet to be determined but it will be a 3 hr. event) at the Carlton Cards Store, Coventry Mall, Rtes. 724 & 100, Pottstown, Penna.
The signing event piece is called "Showered With Friendship" and will retail for $21. You must attend the show to have it signed. Carlton will have another Mothers Day exclusive called "Mom You're Sitting Pretty" limited to 3,500 pieces. The figurine comes with a beautiful pin and will retail for $24. (Note: I will be getting a photo to post if all goes well I will try to have it posted later today or tomorrow)
Also, there will be 2 designated pieces (names of pieces will come later) that will be specially stamped by F & F which will probably be fall pieces. Again, I will pass this information on to those not in the know that the special stamped pieces are of more valuable than the same piece with Dean's personal signature. The reason is because far fewer will have the hand stamp compared to what Dean can sign of the same piece.
The passport inside your 2002 kit you are to bring along with you to the signing event. During the event your passport will be stamped however its not clear whether who will stamp it the store or F & F and whether it will be an ink stamper or sticker type thing. These details will come later important thing is to bring your passport along!!!
Carlton will be getting most of the pieces designated for later in the year such as the Christmas pieces for the event including the giftware line. They will also have 4 prototypes donated by F & F. I'll post the info on prototypes later as to details what the store will do with them.
The store is now taking orders by calling (610) 323-6332 or email Cotlet@aol.com

E-mail me!


Copyright 2005, Oak Leaf Publishing, Inc. All rights reserved. This web site is unofficial and does not intend to infringe on the rights of Fitz and Floyd or Dean Griff, makers of Charming Tails.
Revised: 02/20/06.