What's New! #12


(Older News Items January - December 2003)

12/13/03
2004 Signing Events! OK - we know its early, but we've already heard about several of Dean's 2004 appearances and Events.
First - It has been confirmed that Dean will be attending the Flamingo Fling this year on behalf of David Grossman Creations. That's Saturday, March 6th in Tampa, Florida. AND - they will be having TWO ornaments designed by Dean for sale. For all the details and info, check out the Flamingo Fling web site!
Second - there will be a SIGNING EVENT again this year at the Carlton Cards store in Pottstown, PA. Saturday, May 1st, from 1:00 to 4:00 PM. Also - there will be Spring and Fall exclusives available at the event AND they will have a special version of the Abbey Press exclusive "The Season of Peace" (87/135) - the one with Mackenzie tending the lion and lamb. Instead of snow on the base, the Carlton version will have sand, so it will match the new Nativity Set! More details to follow after the first of the year, as this is a pretty busy time of year for them!
Third - Fitz & Floyd have announced that there will be three Regional "Family Picnics" in 2004. The first, on May 26th, will be in St. Louis, Missouri. The second will be in June, in Salt Lake City, Utah and the third in August in Richmond, Virginia. Stay tuned for more details.
Also - we've learned that the Leaf & Acorn Club theme for 2004 will be centered around FOOD! You may have seen the print "It's a Piece of Cheese" - which looks like it will be the "logo" (Club Membership piece??). The 2004 Club Kit will include the Charming Tails Cookbook (you may remember Fitz & Floyd were asking earlier this year for members to send in their favorite recipes). The Cookbook will also have recipes from Dean, his family and the Fitz & Floyd staff. AND - you'll get a cookbook/recipe holder and a special lapel pin. Stay tuned for more details as they become available.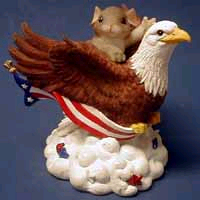 Many people were very excited this year when they saw the print of "American Pride" which features Mackenzie riding on the back of an eagle. Fitz & Floyd have announced that this piece (sure to be a BIG hit and VERY popular) will be available to dealers to order in January/February 2004 -- so make sure to stay in touch with your favorite CT Dealer - you won't want to miss out on this one. Fitz & Floyd have published a picture on their web site, so we thought you'd enjoy a "sneak peek"!
And (finally!) - Fitz & Floyd have announced that the 2004-2005 Charity piece will be "I'll Be Right Here For You" (89/166). This adorable piece features Maxine sitting inside a woman's hat. You might have heard (or seen, if you were at Rosemont this year) that there is a line of figurines coming featuring various Squashville characters sitting inside, wearing or otherwise playing with quite an assortment of hats. Sounds like "I'll Be Right Here for You" is the first in that series.
Oh - one more note. It SEEMS (although not confirmed) that Krause WILL be having the 2004 International Giftware and Collectibles Exposition in Rosemont, Illinois. A collector of another (unrelated) line indicated on one of the bulletin boards for that line that they had called Krause and spoke with a woman working on all the arrangements for the show. Every indication SEEMS TO BE that Rosemont 2004 WILL HAPPEN!! Again - no "official confirmation" yet - but keep your fingers crossed!
I have to take a moment to apologize for the extensive delays in getting this web site updated. As many of you know, my "day job" has had some significant changes lately, including having to work 150 miles away for about 10 weeks between August and October. Combined with working on the 2004 Charming Tails Price Guide, family matters, the Squashville Social Club, etc., etc. ... well, you get the picture. I'll be doing my best to try and have more "What's Happening" news and updates, but your patience is greatly appreciated! Happy Tailing!
9/18/03
"Friendship Is Your Special Tea" release! Recently, a very "mysterious" piece began appearing at a few Charming Tails Dealers and on eBay. While at first it was believed that only 8 of the "Friendship Is Your Special Tea" set (figurine and pin) were released, we have now heard from Fitz & Floyd and have the "full story". Here's what they told us:
"In 2002 Dean and Fitz & Floyd created 98/308 'Friendship Is Your Special Tea' with the 'Hi Sugar' lapel pin. This item was put on hold for future use however, 288 pieces were mistakenly produced with a 2002 bottom stamp.
The limited quantities of this item have been offered to the following retailers. Please contact one of these retailers directly for information on how you can purchase this very special limited edition set.
'Friendship Is Your Special Tea' with the 'Hi Sugar' lapel pin will reappear in the future with a slight color change. The butterfly will be a different color and the bottom stamp will be changed accordingly."
Retailers who will be offering the "Friendship Is Your Special Tea" set are:
Precious Gifts (800) 461-6813
G&L Christmas Barn (888) 737-5600
Collecto-Mania (888) 686-2642
Roberts Christmas Wonderland (800) 861-3689
European Imports (800) 227-8670
Gifts & Accents (913) 381-8856
Rusty Spur (800) 717-1404
NOTE: While it is true that one of these sets sold recently on eBay for $207.50, this auction ended while it was still believed that only 8 sets had been released and before it was known that 288 sets would be released. Therefore, this eBay auction result is NOT a true reflection of this set's current secondary market value. FUTURE auctions and sales of this set, once the entire 288 sets have been sold by these 7 dealers, will determine its true secondary market value.
6/10/03
New Charming Tails Line! Fitz & Floyd have announced the mid-year introduction of a new line of Charming Tails figurines -- The Professions! In this adorable group of figurines, Dean pays his respects to eight different professions: police officers, fire fighters, teachers, doctors, dentists, postal employees, secretaries and barbers/beauticians. You won't want to miss out on these - they're the perfect way to let your favorite "professional" know how much you appreciate them!
5/04/03
2003 Handy List! The "Handy List of 2003" Charming Tails pieces has been posted. I hope this helps you keep track of which pieces you've already picked up and which ones you still need. Please Note: the "photo" links have NOT been completed - we're working on them but there are 122 separate pages to create. So your patience is appreciated! I have also updated the "Introductions by Year" to include all the recently announced 2003 pieces.
5/04/03
Master Listing - Revised! As many of you are aware, the "Master Listing" of Charming Tails pieces continues to grow. To the point where it was taking forever to load the web page. Several months ago, it was split into two lists. Now, as we undertake updating the entire list, it has been split into individual pages for each letter of the alphabet. This should make it MUCH easier to load the page for the piece you are looking for. As time permits, we will be updating the Master Listing to include all the Charming Tails pieces. As this is a an update that covers over 2 years worth of introductions, retirements, special editions, etc. - your patience is appreciated.
4/15/03
European Imports Exclusive! Thanks to MaryKay, we've been alerted to a new store exclusive. European Imports is taking pre-orders for "Celebrating the Holidays" (98/342). This ENORMEOUS 12 1/2" piece features a Christmas tree, sitting on a walnut base, and loaded with both lights (that light up!) and some of your favorite Squashville residents! Others from Squashville are gathered around the base of the tree, admiring Mackenzie as he sits on a gold star at the very top of the tree. Expected to ship in August, this Limited Edition of 1,500 pieces retails for $79.95. To place your pre-order, just call European Imports at (800) 227-8670. We don't have a picture yet, but will post one as soon as it is available.
3/30/03
Price Guide Announcement! Oak Leaf Publishing is very proud to announce the availability of the 2003 Edition of the Charming Tails Price Guide and the Charming Tails 2003 Wish List . For more information and to order, just CLICK HERE!
3/30/03
More Signing Event Details! Kathy Boston (Manager of the Pottstown Carlton Cards Store) has let us know that the color variations will be: "Peek-A-Boo" will have a red flower on the mouse's head and "Harp the Herald Angel Sings" will have gold wings.
3/8/03
Pottstown Signing Event Details! I just hear Kathy Boston, Manager of the Carlton Cards Store in Pottstown PA. Here is what will be available during the Signing Event with Dean Griff on May 3rd:
1. Your Love is a Secret Ingredient (aka "Mom's Love is the Secret Ingredient") (98/235) - $22.00. This is the Carlton Cards Mother's Day Exclusive.
2. Have a Sweet Holiday (98/339) - $19.00. This is actually the Carlton Cards FALL Exclusive - but a limited number (probably 500) will be available at the Signing Event. Cool - you won't have to wait until the Fall to see Mackenzie making a bed out of a candy cane, some peppermint candies and assorted gum-drops!
3. Just 100 pieces of It's Time for Fun (98/303).
4. Just 200 pieces of You Really Change Things (98/98/322) - recently featured on HSN.
5. Just 100 pieces of the SPECIAL EDITION of Take Time to Dream (889/131)
6. Two of the 2003 pieces will be available (limited to 500 of each) with COLOR changes:
Peek-A-Boo (85/111) with a RED FLOWER - $19.00 -and- Harp the Herald Angel Sings (87/131) with GOLD WINGS - $18.00
7. Most of the 2003 Fall and Christmas pieces will be available, with the exception of "May All Your Christmases be White" (waterglobe) and the glass/resin ornaments.
8. 100 complete sets of the new 2003 Nativity.
9. All three of the 2003 Leaf & Acorn Club Redemption Pieces - Friendship is a Great Deal (97/40), Let's Bingo (97/39) and You're Worth the Gamble (97/38). Be SURE to bring your Club Redemption Forms!
This is going to be an incredible event -- don't miss it! BUT - if you just can't make it, Kathy has told us that LAY-AWAY is available! So call the store at (610) 323-6332 and place your order!
Keep in mind that availability may be effected if there is a war with Iraq.
02/25/03
2003 Catalog Error! I just hear from Fitz & Floyd - there is an error in the 2003 Charming Tails Catalog. On Page 36 are the "Shirt Tails" pins. For 80/119 - "Soaring Friendship" - they included the wrong photo. The actual "Soaring Friendship" pin is based on "High Flying Mackenzie" (87/992). The good news is that the pin pictured (based on "Maxine's Butterfly Ride" (89/190) WILL be coming out -- probably in 2004 or 2005. A long wait, I know, for a pin many collectors were looking forward to. But at least there's hope it will still arrive!!
02/11/03
Signing Event Announced! It was just announced that Dean will be having a Signing Event at the Carlton Cards Store in Pottstown, Pennsylvania. No additional details are available yet.
Dean on HSN: Don't forget -- Dean will be on HSN tomorrow (Wednesday, February 12th, at 11AM (Eastern Standard Time). No special editions, exclusives or new introductions are expected. The Charming Tails web site indicated the following pieces will be offered:
12 Days of Christmas Ornaments Set #1
Bee My Honey
Bringing Home The Tree
Cat Nap
Charming Tails Desk Set
Christmas Is Family Time
Come Out And Play
Cotton Claus
Dust Bunnie
Good Luck
Home Is Where The Heart Is
I See Myself In You Garden Set
Lucky I Found You
Mardi Gras Mouse
Snow Angels Gift Set
Take Time To Dream
Visions of Sugarplums
Waiting For Santa
You're Just Write For Me Set

01/22/03
2003 Event Schedule: To help keep track of the four regional events and the Rosemont IGCE show, I've posted the 2003 Charming Tails Event & Appearance Schedule! I have included links to those Regional Events Sponsors have have been announced. If you own a store and will be a Sponsor of the Regional Event in your region -- e-mail me and I'll add a link to your web site.
01/15/03
Charming Tails Pin List: The Charming Tails Pin List has now been updated to include the 2003 pins - even the ones that will be part of the Leaf & Acorn Club redemption pieces.
01/04/03
Charming Tails Resource list revisions: As you know, the number of Charming Tails pieces that have been released over the past 11 years has continued to grow. When this site was first created, single listings were feasible - after all, the lists were not that long. However, as the number of released pieces continued to grow, so did the length of these lists. Over the past few months, and continuing for the next few months, some of the longer lists are being broken up into two or three web pages. This will (1) make it easier for each web page to load (they will load much quicker) and (2) will help reduce the amount of bandwidth being consumed by this site each month. Most importantly, however, it should help make it easier for you to find the information you are looking for. I am making sure that, whenever a list is broken into 2 or 3 separate pages, there will always be links to the other parts of the list right at the top of the page. Thanks!
01/01/03
Dean's HSN appearance: On December 19, 2002, Dean appeared on HSN. There were two special introductions on that show - "I See Myself in You" and a special edition of "Take Time to Dream".
"I See Myself in You" (98/320) - This is a two-piece set and ONLY 720 (NOT 750, as was announced on the air) were made. The figurine "I See Myself in You" is actually an early introduction and will "be back" in as a 2004 piece. However, this piece has "Early Introduction" on the understamp and the Mushroom production mark. I assume when it is released in 2004, it will have a different production mark. The second piece in the set is the "Changing Garden Display Scene". Again, only 720 of these were made and "that's it" - no more will be made. Cost is $44.00 for the set (plus $5.95 shipping) and their item number is 645078.
"Take Time to Dream" Special Edition (889/131) - This is a special version of this piece, where the party hat has been painted gold with silver spots (the regular release is blue with multi-colored spots). Also, the balloon is silver and has "Happy New Year" on it (the regular release is bands of color - blue, purple, green, yellow & red from top to bottom, and without any wording). 1,500 of this Special Edition were made, so you may see it offered through key Charming Tails dealers in addition to HSN. Cost is $20.00 (plus $4.95 shipping) and HSN's item number is 645015.
To order either piece, call HSN at 1-800-284-3900 or visit HSN's web site.

E-mail me!

Check out older news items:
12. January - December 2003
11. January - December 2002
10. July 2001 - Dec. 2001
9. Dec. 2000 - June 2001
8. August - Nov. 2000
7. January - July 2000
6. September - December 1999
5. May - August 1999
4. January - April 1999
3. July - December 1998
2. January - June 1998
1. November - December 1997

Copyright 2005, Oak Leaf Publishing, Inc. All rights reserved. This web site is unofficial and does not intend to infringe on the rights of Fitz and Floyd or Dean Griff, makers of Charming Tails.
Revised: 03/17/04.