What's New! #5


(Older News Items May - August 1999)

Please Note: Some of the links may be out of date since these news items are now outdated. I'm keeping them here for new collectors.
8/31/99
Postcard: Carol and Kay report getting a postcard from Linda Anderson's Collectibles announcing the millennium piece, A World of Good Wishes, for sale. The phone number on the card is (800) 272-9236. The item number is #15-0160. They are charging $24.95 plus $4.95 shipping (less if you order more than one). They have put a limit of three per person. The ad also says they are to be hand numbered.
Open house and millennium pieces: Collecto-Mania is accepting reservations for A World of Good Wishes figurine. They are not taking reservations for the ornament because they aren't getting many in. They are also taking reservations for On the First Day of Christmas for the November 20-21 open house (selling for $17.50). If you want the piece, you have to prepay because too many people were putting their names on multiple lists and then not buying the piece they said they wanted.
8/29/99
Open house piece: We now have a description of On the First Day of Christmas, the 1999 open house piece. It has a mouse (Mackenzie?) carrying a pear tree with a partridge perched on top. The pear tree is in a planter, possibly with a bow around the planter.
Monique's exclusive: I have some more news about the Monique's Antiques exclusive for next year. It looks like they WILL have the exclusive like they said they would. There was some confusion at Fitz and Floyd about this, but it has been verbally verified by Richard Dunne, the vice president of sales at Fitz and Floyd. Apparently we got this information before it was really ready to go because the design hasn't been confirmed yet. But they will be getting an exclusive and your deposit is safe. Call (609) 753-8906 to reserve yours. I'm sorry for any inconvenience this has caused. More details as I get them.
8/26/99
Open house piece: Olga let me know that Gift World in Maple Shade, New Jersey, will have On the First Day of Christmas. Call Jay at (800) 779-8200 to order your piece.
8/25/99
Open house piece: Hat Box will have On the First Day of Christmas. Call (800) 407-7076 to reserve your piece.
8/24/99
Gifts & Accents exclusive: Scooter stopped by the store and snapped some shots of the prototype of Christmas Tree Trio. This piece is limited to 3,000 pieces, will only be available from Gifts & Accents, and will sell for $22.00. Call them at (800) 822-8856 to reserve your piece.
GCC exclusive: Scooter got me a picture of Are the Earrings Too Much? from a store poster. Check it out.
Open house exclusive: Gifts & Accents will also be getting On the First Day of Christmas, the open house piece for 1999. Sparkling Rose has now sold out of the pieces they were alotted.
8/23/99
Open house piece: Sparkling Rose has announced the open house piece will be 98/210 On the First Day of Christmas and cost $17.50. The open house event will be held the weekend of November 20-21. Not all dealers will be able to participate, but Sparkling Rose will be getting a limited number. I'll let you know if I hear of any other stores getting the piece. If you know of any, please let me know so we can share the info.
Leaf and Acorn Club newsletter: The summer edition should be showing up this week. Keep an eye out for it! It's supposed to have a photo of On the First Day of Christmas.
8/18/99
Party Animals print: Pam let me know that the Party Animals print was also given out on dealer days at Rosemont. A possible explanation is that Dean didn't given them all out at the GCC event, which was before Rosemont, and gave out the rest then. There were only a total of 200 pieces done because each one is numbered. Anyone have any pieces to add to the puzzle or can confirm this guess?
8/11/99
Millennium pieces: The latest word from a rep is that the millennium figurine A World of Good Wishes has been cut off at 18,400 pieces. The millennium ornament has remained at 5,000 pieces. However, sometimes word is slow to reach the ranks, so we'll keep you posted.
8/10/99
Print: We found out a little information on Rona's print (see below). Dean did this print for a show only for GCC dealers. The first 200 dealers or store representatives that walked up to Dean and said hello got a free print.
8/9/99
Dean's artwork: Rona received a thank-you card that Dean designed. It's similar to the "tag" from the Flamingo Fling.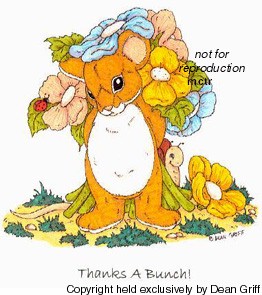 She also has a print of Party Animals. We're not quite sure yet where this is from. Lucky her!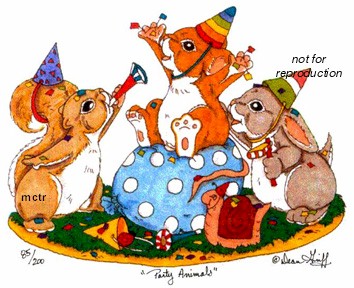 8/3/99
Shirts: Mike sent me an update Thursday and posted this to the bulletin boards. I'm a little behind on my e-mail. :-) He called Heirloom Collectibles, and they don't know if they will be getting any more embroidered chambray shirts or how much they would cost. If you want one just in case, please call them anyway. As for the T-shirts, they do have a quantity of them, but once they're gone, they're gone. They can't order any more. Call them now: (800) 929-4567.
7/29/99
Charming Tails shirts: The signing at Heirloom Collectibles premiered something we had been talking about for a long time--shirts! They are taking orders for the long-sleeve denim shirts (the ones we had seen before were white tuxedo shirts). They are $29.95 and have Mackenzie looking out of the pocket, which has the Charming Tails logo on it. You can still call to order: (800) 929-4567. They sold out of the T-shirts (Hanes 50/50 blend), but if there are enough calls by Friday, they may order another batch. So be sure to call soon if you're interested. The T-shirt was $15.95 and has a picture of This One Is Yours, with the name Heirloom Collectibles and the date on the front. If anyone has a picture of these shirts, please send them to me so we can all take a peek. They sound really cute. By the way, this information was collated from the bulletin boards. Thanks to everyone who gathered information.
1999 open house event piece: We're all familiar with the scramble to get Riding on the Wings of Friendship last year, which was the open house piece. This year things look a little better for us. The open house piece won't be as limited as it was last year, and any store should be able to order the piece. The event is tentatively scheduled for November, and we should have more details shortly.
7/21/99
Signing photos: I visited their web site, and the Limited Edition has posted photos from their signing event on their web site.
7/17/99
Raffle and artist's proof: The Bronze Lady sent out their newsletter, which mentions that they're raffling off items at their grand opening celebration July 24 (they recently moved to a new store). The main Charming Tails piece is an artist's proof for I'm So Sorry and is signed by Dean (with a little chip to the ear). Other raffle items include a signed Flying Leaf Saucer and a signed Life Is a Picnic with You. You get one raffle ticket with every $25 purchase now through the drawing on July 24. They will have drawings every hour on the 24th, but it will include all of their collectible lines, not just Charming Tails.
Original drawing: The Bronze Lady's web site also mentions a raffle of an original drawing by Dean of A Cup of Christmas Cheer. Click here to see the picture of it. It will be given as a raffle item sometime before Christmas, and they hope Dean can make it to the store to present partial proceeds to a charity of their choice.
7/15/99
Prototype: Tita let me post the photo of the Booo! prototype. This is one of two versions.
7/11/99
Mackenzie Building a Snowmouse: Kevin asked me a question about a certificate that came with this piece. Does anyone have this certificate? Can someone send me a scan of it to add to the page?
Prototype on eBay: Becky's sharp eyes caught another prototype on eBay. It's similar to the Boo! prototype I have pictured on my web site. The bidding's already up to over $800!
Signing: Miki let me know about the signing at the Incredible Christmas Place July 24. She said they will take telephone orders but are limited to 500 signed mail order pieces. Apparently Dean can sign 500 pieces an hour, and he has agreed to sign mail order pieces an hour before the signing. You can get any piece signed, as long as you call before their 500 limit is filled. They already had 200. It sounded like anyone who comes to the event will get the peices they purchase signed. To get the event piece, you buy one other piece, but there was no limit on the number of other pieces you could purchase. They had the large Mackenzie and Maxine available too. Go to the 1999 Signing Schedule for details.
Gift for Dean: The photo album has turned into a scrapbook! Lauri has volunteered to do scrapbook pages for people sending photos in. She sent me some pages, and they're gorgeous! I don't want to say too much because Dean may be reading. If you'd like your photos done on scrapbook pages, let me know. I can also send you photos of the sample pages to let you see what they're like. I'll also give you my address to send your photos. Julie is also working on a quilted cover for us. I'm hoping to attend the Disney signing in December (very tentative at the moment), so I can give it to him then. Some other people are also going, so if I can't go, they can give it to him. When we're all done, I'll post pictures.
List of stores: Kay continues to go through the online store list in an effort to make sure the links work, the stores sell Charming Tails, and they're listed on the state pages. You can't believe how complicated this is at times. She's done a great job of keeping things straight, and we all owe her a big thank-you. :-)
Photos: Another wonderful helper, Scooter has been taking pictures of the new pieces so I can replace the catalog shots on the Handy List of 1999 Pieces. She has almost all the everyday, spring, summer, and fall stuff done. Now we can begin on winter. Oh boy!
AOL troubles: My Simplenet e-mail account apparently has some problems getting through to people on AOL. AOL has some spam filters but also seems to weed out legitimate e-mail as well! If you haven't heard from me in at the most a week, please write me back to let me know. I always answer all my e-mail.
7/8/99
Signing: Andrea let me know some information about the August 15 signing at Crystal Palace: "They are now taking reservations for the signing piece and for the millenium piece. They aren't sure if the millennium piece will be at the store the day of the signing, but they will still take orders. All a person has to do is call and leave their name, address, and phone number. They had a wide selection of Charming Tails but mostly recent pieces. The few retireds they had were secondary market prices and higher. Seaport Village is a fantastic shopping area with a great view of the San Diego Bay and downtown. It should be a fabulous signing."
Photos: Scooter's been busy sending me photos to post of the 1999 pieces and the wedding set.
7/3/99
Mid-year introductions: Tatonka has received the new spring pieces. Shipping is free with orders of $75. I have pictures up on the Handy List of 1999 Pieces.
89/100 Along for the Ride--$18.50
89/101 Party Animals--$22.00
89/102 A Gift of Love--$18.00
89/103 Take Two Aspirin and Call Me in the Morning--$15.00
89/104 Together Every Step of the Way--$18.00
89/105 You Quack Me Up--$18.00
Also, Eloise's at (281) 578-6655 has gotten in all the 1999 pieces EXCEPT A World of Good Wishes. Cherished Enchantments at (713) 290-0266 has gotten most of the pieces in, just not the spring releases. They should be in any day now.
7/2/99
ICE show: It is confirmed that next year's ICE show that rotates among east and west coast is moving. Normally the east coast one is in Edison, New Jersey, but in 2000 it will be held in Atlanta, Georgia. The one in Rosemont every year has not changed. Here's the official work from Krause Publications themselves:
"Yes, indeed, we are going to Atlanta in the spring of 2000! The dates are May 4-7, 2000. Then in June, we will be returning to Rosemont, Illinois once again on the 22-25, 2000."
New pieces: Forever Christmas is now taking preorders for A World of Good Wishes and the new NALED pieces. They also report that Follow the Star, Oh Mackenzie Tree--Oh Mackenzie Tree, Dive into the Holidays, and A World of Good Wishes should arrive late summer,
Disney signing: Dean will be at Epcot on Saturday, December 4, only. He is supposed to be there (tentatively) from 9 a.m.-2 p.m. Guests that are at Disney attending the Christmas event will be able to meet/sign with Dean starting at 9 a.m. The general public will be able to meet/sign at 11 a.m. They don't know yet about signing pieces not purchased at the event. The Christmas Collectible Showcase package should go on sale next week: (407) 827-7600.
6/30/99
Buy/sell/trade: Yahoo has bought out Geocities and has decided to change everyone's user name and make them sign new agreements! Therefore, I'm not going to be using Geocities at all for the forms (you have to basically sign over all rights and ownership to your web site over to Yahoo). I can't afford to pay for Simplenet to host the forms either. This means you guys are going to have to start e-mailing me the buy/sell/trade lists and the votes. I've done new pages with instructions, so please change your bookmarks.
Rosemont photos: Scooter sent me some more photos from Rosemont. Fitz and Floyd prefers that the drawing from the new baby theme, May All Your Dreams Come True, not be posted. She was savvy enough to ask for permission first, so of course we'll respect their wishes.
New fall pieces: Collecto-Mania now has in Haunted Hayride (with ghosts peeking out), Mackenzie's Putt-Putt Tractor, Hocus Pocus, and Harvest Time Honeys.
6/29/99
Photo album: It looks like the photo album is a go! A few people have written me about sending photos to Dean. So, if you'd like to be included and send him some of your event photos, you can send the photos to me snail mail. Write me and I'll send you my address (I don't want to post it here). Also, Julie is doing a fabric-covered photo album for us in a "woods" them (acorns, leaves, etc.). This should be good! I know a lot of people would like to tell Dean thank you for all he's done for us.
Buy/sell/trade posts: Geocities (where I keep the forms) seems to be acting up, so the posts aren't going through. I can only hope they'll get this fixed soon. If you have posts that won't go through, you can e-mail me directly.
6/28/99
Rosemont report: I added Rona's report to the Rosemont page. She took great notes!
Store closing: Janice let me know that Everything Christmas has gone out of business. I'm removing their listings because of this. Just wanted to let you guys know.
6/27/99
Photos of new gift pieces: Scooter sent me some great pictures from Rosemont. Check them out on the Home Accessories page. Also, here's a pic of some prints or something like it that Dean was giving out, hand signed.
6/26/99
Report from Rosemont: Rona reports that she asked Dean and Gerald about the gift boxes. They were not happy with the look of the prototypes, so they are reworking them, and the release has been pushed back. Also, the Tunnel of Love musical plays "Let Me Call You Sweetheart." Autumn Harvest plays "Getting to Know You." Love Bunny plays "I Wanna Be Loved by You." The Autumn Harvest musical has Mackenzie, very similar to Caps Off to You, looking up at a bird on a mushroom or something. The bird looks like a little wren. The following report comes from someone other than Rona. :-)
Swap and Sell: Reports are that the Swap and Sell wasn't as good this year as it was last year. The prices were high, too.
Baby set: A new theme will be "May All Your Dreams Come True" and will include an infant set with a night light, a baby-tooth box, a music box, etc. They will be in pinks and blues. The mouse included in the theme will be one of the baby mice. There might even be a contest to name the character. They like to introduce new characters from time to time to keep things interesting. Incidentally, the owl will be reappearing.
Teeny Tiny Tails: The Teeny Tiny Tails are being phased out, and it doesn't look like there will be any more. The Tunnel of Love musical has the mice about the same size as the Teeny Tiny Tails, so this scale at least probably won't go away.
Other items: They are planning Mackenzie and Maxine plush stuffed animals, perhaps within the year. They're still thinking of cards and stationery.
Web site: The Charming Tails web site still isn't finished. They're hoping to have it ready by the end of the summer.
New pieces: They're planning pieces for Independence Day in the future. They will not be releasing as many pieces next year, and they're going to be be cutting back on the exclusives.
New home accessories: It looks like there will also be some lidded boxes as part of the new pieces coming out:
Lidded boxes (3)
"Rowboat Box" makes a perfect keepsake and will be treasured forever.
"Ring Box" is the perfect place for her to store her jewels and momentos from you.
"Reach for the Stars" will delight dreamers everywhere, especially when they discover the surprise inside, a "Lucky Star"!
This information comes from the Rosemont collector's book. This information appears to conflict with some earlier information I received, so take it with a grain of salt.
Four (4) exquisitely designed picture frames
"My Love Bunny" a heart-shaped frame for that special someone in your life.
"Thinking of You" features Mackenzie pining away.
"Leaf and Acorn" features Maxine & Mackenzie with Maxine snuggled up in a leaf
"Reach for the Stars" for the overachiever or graduating student on your list.
Six (6) delightfully designed votive candleholders. Four (4) of these votive designs feature your favorite Charming Tails characters holding flowers, warming hands and toes, or sleeping amongst the leaves.
The "Love Votive" has Squashville's first couple, Mackenzie and Maxine, sitting on mushrooms, enjoying the candle's flame in a large mushroom speckled with white hearts.
The votive even shines brighter with the "Reach for the Stars" votive candle.
Three (3) music boxes
"I'm Your Love Bunny" with a winged cupid Binkey.
Mackenzie and a new feathered friend spin around on acorns as the music plays.
An inspiring music box that ecourages you to "Reach for the Stars."
6/24/99
New fall pieces: The ones we've been waiting for look like they're arrived! Tatonka received the new autumn and Halloween figures:
Harvest Time Honeys--$18.50
Haunted Hayride--$18.50
Hocus Pocus--$18.00
Mackenzie's Putt-Putt Tractor--$17.50
6/23/99
Concepts Direct exclusive: They have confirmed that Maxine's Snowcap will be limited to 3,500 pieces. They just received the final prototype of the piece. As soon as it's available for order, I'll let you guys know. That should be October 1.
San Diego signing: "Draftlight" wrote me and let me know that the August 15 signing is supposed to have A World of Good Wishes and the special event piece available for Dean to sign.
6/22/99
Accessories: Mike Brennan sent me some photos of the new home accessories! How neat!
New textiles: The new afghan, pillows, and bellpull are now out! They have pictures from the piece Everybody Sing. A Day in the Country (828) 692-7914 has the pieces, and so does Tatonka.
Everybody Sing Afghan 51" x 68"

Everybody Sing Bellpull 6.75" x 41"

Everybody Sing Tapestry Pillow 17" x 17"

Everybody Sing Word Pillow 12.5" x 8.5"
Millennium piece: Tatonka is also taking orders for A World of Good Wishes.
6/21/99
NALED exclusive: I have a picture of Follow the Star posted now and some better ones of Oh Mackenzie Tree--Oh Mackenzie Tree and Dive into the Holidays. Thanks to Kay for passing along the photo!
Prototype: The seller of the prototype Chauncey and Stewart Stringing Popcorn (guessing at a name here) sent me some photos of the piece and gave me permission to use them on my web site. Since the piece went for such a huge sum of money, I thought you'd like to take a look. <g>
Millennium piece: Christmas Classics & Collectibles will be selling A World of Good Wishes.
Gift for Dean: I had an idea, and I need you guys to tell me if you'd like to participate. Since Dean doesn't usually carry a camera himself to the signings, I thought it would be nice if we could send him a photo album with copies of photos collectors have taken at the events. I thought you guys could get a few photos made from the negatives and mail them to me. Then I would put them in a photo album (maybe we can get a store to donate one?) and have someone deliver it at a signing event down the road. These could be photos from any time period, but I would need a date, place, and your name. For those who haven't attended a signing, perhaps you could send a photo of yourself and/or your collection. So what do you think?
Store exclusive: In addition to the store exclusive I mentioned yesterday, Monique's Antiques is supposed to get a second exclusive a little later.
Votives, candleholders, etc.: These new pieces should arrive at the end of the month or next month. Any store should be able to order them. I'm guessing they're going to be at least shown off at the Rosemont International Collectible Exposition.
6/20/99
Another store exclusive: Donna shared some exciting news about a new piece that will be available next spring. Monique's Antiques in Berlin, New Jersey, will be having an exclusive special edition that features Mackenzie and Maxine pushing a baby carriage with the two baby mice in it, while antique shopping. It will have a sign that says "Monique's Antiques." The store asked Donna to spread the word about the piece. They do have a list going for the piece, but be patient. They are moving their shop down the strip mall where they're located, so they may be pretty busy. There's plenty of time to order the piece, but the phone number is (609) 753-8906.
1999 pieces: It looks like all the regular 1999 pieces are out except the fall/Halloween pieces and the mid-year introductions (spring pieces). Monique's Antiques has the available ones in and is also going to be getting in the millennium piece, the picture frames, votives, and probably the music boxes. She offers free shipping on orders over $100.
6/18/99
Roman giftware: Here's another piece you won't find listed elsewhere: Chipmunk Bavarian/German Cuckoo Clock Ornament. Someone sent me some photos, and the piece is signed by Dean.
6/17/99
Prototype: Suzanne spotted another prototype on eBay! The person selling the piece let me know that he's going to post a picture of the piece soon on the page. The work came from a show that he had in his store in Columbus, Ohio. The store's rep at the time brought in signed works and other items for them to use to improve sales. Names were drawn for the giveaways. Nobody ever came in to pick up this work as well as a few Riding on the Wings of Friendship. He is working on a web site to auction off items like this.
Following the Christmas Star: Cathy has a photo of the new NALED piece posted here. The face on the star is too cute!
6/16/99
Postcard: This is a pic that a collector passed on to Rona. Thanks for sharing! So is it as cute as we thought it was going to be? Silly question.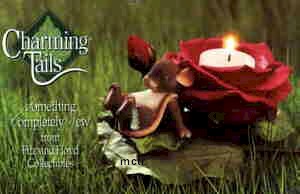 Rosemont invitation: I just received a postcard in the mail that looks like the one above. It's an invitation to the Rosemont ICE. It looks like they're going to unveil these pieces there. You guys take plenty of pictures!
6/15/99
Millennium ornament: The ornament to go along with A World of Good Wishes will only have the globe and dove on it. This piece will be extremely limited. Any store will be eligible to get it, but it will probably be up to the reps.
6/14/99
New items: Here are some new items to be introduced for Charming Tails:
Three new musicals
93/100 Autumn Harvest Music Box--$40.00
93/200 Love Bunny Music Box--$35.00
93/201 Tunnel of Love Music Box--$49.50
(reported to be out of this world; backs are towards one another when they enter the tunnel, they revolve through the tunnel, and when they come out of the tunnel they are facing each other)
Votives
93/101 Pumpkin and Squash Votive (one votive only, not two separate ones)--$20.00
93/204 Rose Votive--$20.00
Candleholders
93/202 Floral Candleholder with Mackenzie--$20.00
93/203 Floral Candleholder with Maxine--$20.00
Three picture frames
93/103 Autumn Harvest Picture Frame--$25.00
93/206 Heart Picture Frame--$25.00
93/207 Thinking of You Picture Frame--$25.00
New open house piece: There will be another limited piece for September 30 only. No name has been announced yet. Details are still sketchy until Fitz and Floyd releases more on June 24, but it appears again to be similar to Riding on the Wings of Friendship.
Millennium pieces: Everyone will have access to the millenium ornament, and this piece is limited to 5,000. Also, A World of Good Wishes has not been reduced in size; it was actually increased and may be higher than we thought (still no exact amount).
Staff change: It was also announced that Joe Goulett has left Fitz and Floyd. He was frequently seen at signing events with Dean. He was replaced by Richard Dunn (spelling?). Farewell to Joe. He was a lot of help when we had questions.
6/12/99
Gifts & Accents photo: I won't be posting a photo of the new exclusive because all the store has right now is a black-and-white drawing. They said that the drawing is copyrighted and Fitz and Floyd won't allow them to post it on the Internet. If you happen to live close enough, stop by the store and maybe they'll let you take a look.
Store exclusives: I want to review the store exclusives so no one gets left out. I want to encourage you to get these pieces ordered now, before major advertising is done for them. We saw how fast Take Time to Notice Those around You went. If they sent out a mass mailing, these pieces will be gone. Call and reserve yours as soon as you can. I called Simply Christmas, and if you just gave them your name, without your credit card info, you need to call them back. They won't call you until the pieces are ready to ship, and I personally wouldn't want an order that tenuous. All of these pieces are limited to 3,000 and will only be sold at these stores.
Rosie Wells: Word from the Rosie Wells web site is that there will be no more printed versions of the Collector's Bulletin. They're also reorganizing their price guides. Cathy Hauk has said there won't be another Charming Tails price guide. From what I've heard, the printed format was no longer cost-effective because of all the information collectors can get on the Internet. Oops.
Disney signing: More info on the event! You will need to pay for entrance to Epcot Center to get into the signing. There's no additional fee for Dean's part of the event. They don't have an exact map of where it will be, but the park guide map that day will highlight all the artists. This sounds like quite an event. If you can make it there, I suggest you do. I wish Texas wasn't so far away--I love Disney World. Think if I say it loud enough the hubby will hear?
Index page: I am going to start putting today's date and yesterday's date in red on the main page. Sometimes I update the page late at night, and I don't want you to miss out on any information. :-)
6/11/99
Disney signing: I just received a second number you can call if you have questions about the Christmas Collectibles Showcase that will be held in addition to Dean's signing: call (407) 827-7600. They will take your name and send you information when it is available (in about three weeks). (We got our first Charming Tails piece when we were at Disney World so many years back. Makes me want to return.)
Signings: Miki has been busy calling some of the signing stores and shared some information with me, which I do greatly appreciate. Check the 1999 Signing Schedule for more details.
6/10/99
New exclusive: Gifts & Accents in Overland Park, Kansas, will be having a Charming Tails exclusive piece for 1999. The figurine is called Christmas Tree Trio and will retail for $22. Stewart and Mackenzie are standing cheerleader style with their arms extended. Ornaments hang from their outer paws. Balancing on top of their heads is Binkey, with ornaments hanging from his paws. Poised between Binkey's ears is a star! Sounds like a cute tree pyramid in time for the holidays. This will be a limited edition of 3,000 and will only be available through Gifts & Accents. Delivery is expected to be in September. Orders can be called in to (800) 822-8856. Ask for ext. 295 to talk to LauraLea Johnson if necessary.
Millennium ornament: LauraLea has also confirmed that there will be a millenium ornament resembling A World of Good Wishes. This will be a limited edition and will only be available through selected stores. No details on cost or delivery are available yet, but Gifts & Accents is starting a list.
Kansas City club: If you live in the Kansas City area and are interested in starting a local club, please call LauraLea at (800) 822-8856, ext. 295, to let her know. Scooter and her pals would like to know if there are enough people interested.
Disney signing: The organizer of the Disney signing e-mailed me and gave me some information on the event to be held there December 4. It sounds really exciting! They will be holding their annual Christmas Collectible Showcase December 3-5. The event features a limited edition and a collector's showcase around World Showcase at Epcot, among other events. Although Dean will not be doing a limited edition, he will be on hand during the collector's showcase signing the 1999 event piece This One Is Yours and the millennium piece A World of Good Wishes.
6/9/99
Online stores: Lauri let me know that Buschkoetter's Collectibles in Jasper, Indiana, is no longer carrying Charming Tails. I've removed them from the list of online stores. According to their web site, they're changing their name to Home Accents and changing their location. Their new web site will be www.athomeaccents.com. If you have any updates on stores or new ones to add, please let me know. The more the better! Thanks to everyone who has taken the time to help me.
6/8/99
Club incentive: The club incentive we were supposed to receive for renewing membership in the Leaf and Acorn Club by March 31 has begun to arrive! We were right--it's a pin similar to You Are My Shining Star. If you want to be surprised, don't look at the photo of the Reach for the Stars pin. Thanks to Wendy for the photo!
6/6/99
Online Stores: Kay and I have been working to get the online stores checked and listed on their various state pages too. I input a little more this weekend (thanks, Kay!). Now the GCC and NALED stores are done. Lauri also e-mailed me that some online stores no longer carry Charming Tails: the Alcove in California and Christmas House in Georgia. I've removed them from the lists. I do appreciate getting corrections, so if you see anything, please let me know. This web site is getting bigger and bigger. :-)
Heirloom Collectibles signing: Alana called the store, and they said no outside pieces will be allowed for the signing, just ones you purchase that day. This seems to be an unfortunate trend for the signings.
6/4/99
Concepts Direct: Thanks for sending me your comments on the lot size for Maxine's Snowcap. I have passed them along. The comments were fairly split between 3,000 and 5,000. A few people wanted a larger lot size so that everyone could get the piece.
Millennium piece: The Hat Box has a confirmed their order for A World of Good Wishes and is now taking orders: 1-800-407-7076. Thanks to Scooter for the info.
6/1/99
Simply Christmas exclusive: They now have a photo up of Snowshoe Sweetie! Thanks, Angie, for letting me know. Be sure to reserve yours now. They will be limited to 3,000 piece and will ship in late August.
Signed pieces: Paper Moon no longer has any signed pieces left for sale. Dean had signed a few extra while he was there at the signing, but they're all gone. Remember that you can still order the signing piece from stores having signings this year. Go to the signing list. Don't pay too much for this piece secondary!
Paper Moon signing: From what I've heard, the signing went well. I've received reports that people received their signing pieces very promptly and that the second piece you had to buy was signed as well.
5/30/99
Acorn Society kit: I've posted pics of the 1996 Acorn Society kit, with the help of Cindy Zugay and Becky. I have a question for those of you who have the kits. At Rosemont they ran out of the kits and had to mail them to people. I need to know how the kits at Rosemont and the kits sent after Rosemont differ. The ones sent later were supposed to get something extra, but we don't know what it is. Please check the Leaf and Acorn Club Items page for the list and let me know if you can figure out the difference.
New pieces: Stiers now has the 1999 ornaments and The Stockings Were Hung, Sleighride Sweeties, and Everybody Sing.
Signing pieces: Coral let me know that she received her pieces through mail order from Paper Moon, where Dean did a signing recently. Both This One Is Yours and the other piece she bought were signed. The second piece was not guaranteed to be signed, but Dean must have had a little time to sign pieces or put in extra time.
5/29/99
Stores: Kay Gause, wonderful person that she is, has volunteered to help me with the web site! For a long time I've wanted to go through the list of online stores and make sure that (1) their information was correct and complete, and (2) they were listed on the list of stores by state. So far we have the GCC stores done. That's why you see a new date on the intro page and no "new" or "updated" icons on the pages themselves. That would be more work, and as you can imagine, this can get very confusing as it is. If you see anything incorrect or that you can add to, please e-mail me. Thank you, Kay!
Webring: I'm working to get the webring sorted out. We had a few glitches, but we'll get them taken care of soon, in case you've had trouble with it recently. Thanks to those who wrote to me letting me know. I've been meaning to get to it for a while and just now have the time to do so.
5/28/99
Concepts Direct exclusive: I've just received information on the next exclusive from a very kind person at Concepts Direct. It will be available exclusively from Linda Anderson's Collectibles and will be released in October 1999. It's called Maxine's Snowcap and has Maxine standing on a snowy base carefully balancing a large snowflake on her head. There are smaller snowflakes dangling from the large snowflake. The piece was originally scheduled to be released in September, but they're resculpting it to get it just right. Orders will not be taken until October 1, so try not to call them until then. The edition size hasn't been determined yet, but here's your chance to give some input: What do you think the edition size should be? Would you like 3,000 like Take Time to Notice Those around You where they fly off the stockroom shelves and increase in value immediately? Would you like 5,000 like Stack-O-Sweeties where they take a little longer to sell out but will probably increase in value later? Or would you like a larger edition so that everyone can easily get a piece? E-mail me and I'll pass on your responses.
Millennium piece: Great news for those of you who were wondering where you were going to get A World of Good Wishes! Linda Anderson's Collectibles will be selling the millennium piece! A special July mailing will be going out to their best Charming Tails customers. After the July mailing is out, we'll have ordering information posted here for those of you who don't get the card.
Stack-O-Sweeties: Remember that Concepts Direct still has a few Stack-O-Sweeties left. Don't wait to get this piece!
5/25/99
Secondary prices: I am beginning to add secondary prices to the giftware. This will be quite a task, but I have the help of a wonderful friend. You can find the prices on the Other Dean Griff Pieces page. I've also been posting more photos of the giftware, which you can access from this same page or from the Photos of Giftware page (but this one has thumbnails).
Silvestri giftware: A friend sent me a photo of a giftware piece that you won't find listed anywhere else--2" Spun Birdhouse with Bird Light Topper Ornament. Dean signed the box for this piece (you can't sign a glass ornament), so it is verified as his.
1999 Christmas Ornaments: Sparkling Rose now has the new Deck the Hall ornaments in. Go to the Handy List of 1999 Pieces for photos of them.
A Cup of Christmas Cheer Ornament
Baby's First Christmas 1999 Ornament
Snowbird 1999 Annual Ornament
Our First Christmas Together 1999 Ornament
Binkey's Candy Cane Flyer Ornament
Squashville Social Club: Since I'm trying to spend less time on the computer, Janet from Bears N Buddies is going to be doing the online club's pages now. I've changed the link to her pages. Check it out from time to time. She'll be posting the contests every Monday. Obviously, I won't be able to put the date last updated anymore. Here's the address: http://bearsnbuddies.com/Ctails/club/club.htm. Thanks for the help, Janet!
5/23/99
Buttons: Wow, we've come up with a lot of information on Charming Tails buttons! Many thanks to everyone who's helped out with photos and information for the Buttons Etc. page. One correction: The Snowball Fight button has Dean's signature included on the button and was not added later. I'm still adding information to this page slowly. If you have anything to help out, just let me know
Giftware photos: With the help of a friend, I've been adding photos to the Photos of Giftware page. A few people have asked me where to find these pieces. Though they're getting rare, some of the pieces can still be purchased. One store that I know of has good prices. It's Kathy's Kollectibles in New Jersey at (201) 845-7624.
5/21/99
G&L exclusive: Dave has a photo posted of the G&L special edition piece Winter Whirlwind at http://users.downcity.net/dlreid/www.html. This piece is a one-and-only; the actual piece will be a little different. He said that the straw poking up out of the snow will be removed and holly put in its place. Also, the snowflakes are resin, not paper, and glittery.
5/20/99
Millennium piece: Jim Fitzwater from Cool and Collected Fine Gifts & Collectibles let me know some information on A World of Good Wishes. Fitz and Floyd has sent a fax to reps stating that the piece is now sold out; this means stores can't order any more. Some reps didn't even know about the piece, so some stores may not be getting them at all. This also means that the number of pieces produced will probably be staying at 10,000. Jim has a good number of pieces on order, and he is now taking names for the piece.
5/18/99
Millennium piece: Dave reports that A World of Good Wishes is now a special edition of 10,000 due to its popularity. As the number increases, the likelihood of it being hand numbered decreases.
Littleton auction: The Holiday Fantasies auction held in Littleton, Colorado, benefited the Dave Sanders Football Field Fund at Columbine High School.
Paper Moon signing: Suzanne Gamble sent me some info on the signing. The are expecting Dean from 12-4, though they are hoping that Dean will show up early to sign the mail order pieces. The doors won't open until 12. Also, they have been stripped clean of their Charming Tails but should get some in this week. There will be a limit of three pieces signed per person as long as you have an event piece to cover it. They have plenty of those. Children do count to get pieces signed. They are being firm about no pieces from home.
5/17/99
Littleton auction: Don't miss the information I have posted about the Holiday Fantasies auction in Littleton, Colorado, this past Sunday.
Leaf and Acorn Club: Nancy and Souris let me know that the Canadian club kit is not the same as the U.S. kit. It does not include the canvas tote bag or the thank-you card.
5/16/99
Woodland Winds: Arlene mentioned that the Radko web site has pictures of the new Woodland Winds pieces designed by Dean. I've added the 1999 pieces to the list of Other Dean Griff Pieces.
Brochure mess-up: Cindy let me know that Sandy found a typo in the brochures they were handing out at the Long Beach show. The club membership piece is You Are My Shining Star, but the brochure calls it Reach for the Stars. Seems like collectors aren't the only ones who want to make that mistake! The new brochure summarizes the Charming Tails line, with pictures of the 1999 pieces, the midyear releases, and the club pieces.
5/15/99
Buttons Etc. page: OK, I've finally gotten the page up! Check out the Buttons Etc. page to see photos of every button I have, plus some fun stuff from various events. If you have any photos of "stuff" to add, please let me know.
Giftware pics: I've also added some photos to the Photos of Giftware page.
Millennium piece: A World of Good Wishes should ship in September, but this is an estimate only.
5/14/99
Life Is a Bed of Roses: G&L Christmas & Gift Barn has received some signing pieces from last year, Life Is a Bed of Roses. They're going fast, so call soon.
Signing: Paper Moon, one of the signing stores, is allowing you to order the signing piece, but you have to buy another piece along with it (this is standard for signings). Karla let me know that Paper Moon is only taking orders for Charming Tails that have already arrived. The fall pieces aren't in yet, so you can't order those. Any order over $100 has free shipping, and they do have the NALED exclusive Friendship in Bloom in.
5/12/99
New pieces: I've posted a pic of You Quack Me Up on the Handy List of 1999 Pieces page. Thanks to Cindy Zugay for sending it to me! I think this piece will be one of my favorites. And you know Charming Tails are even cuter in person!
Teeny Tiny Tails: Collecto-Mania is offering a 30% discount on the Teeny Tiny Tails, excluding the musicals, in May for members of the online club. They also have the Leaf and Acorn Club kits in.
Millennium piece: Collecto-Mania is supposed to be getting A World of Good Wishes in, but they don't know how many they'll be getting. I believe G&L Christmas & Gift Barn has already sold out with preorders.
Long Beach pictures: We had one of the names wrong on one of the group pictures from the Long Beach show. I think we have them right now. If you went to the show and were in the picture, please check the names and let me know if I have any of them wrong. Thanks!
5/6/99
Paper Moon signing May 23: Sandi sent me some information on the event. For walk-ins, they have the Leaf and Acorn Club kits for sale, and if you buy it the day of the signing, you can get the membership piece signed. Walk-ins can get only three pieces per person signed, and you have to buy them that day at the store. Also, as we had heard before, for mail order, the signing piece will be the only piece guaranteed, and you must buy one other piece to get the signing piece. The second piece is not guaranteed to be signed. They should be taking orders for the signing piece now: (561) 684-2668, (800) 685-2668. Someone (not Sandi) told me the store was pretty harried on the phone and couldn't check to see what pieces they have in stock.
5/4/99
Mid-year introductions: I have pictures posted of the new pieces up on the Handy List of 1999 Pieces (from the club newsletter). The only piece we don't have a photo of now is You Quack Me Up, which is going to be a favorite.
San Diego signing: Maria sent me this information from a flyer: "The Crystal Palace at Sea Port Village to host Dean Griff on Sunday, August 15, from 1:00 to 4:00 p.m. Enjoy this special Sunday with us at Sea Port Village, considered by many as one of the most beautiful retail settings in southern California. In addition to having one of the largest selections of Charming Tails in San Diego, we will have many retired pieces for purchase. This One Is Yours the special event figurine only available at Dean Griff's signing event. It is priced at only $18.00 with any regular Charming Tails purchase."
5/3/99
Simply Christmas exclusive: Simply Christmas has released a little more information about its exclusive piece, Snowshoe Sweetie. It will be released around mid-August and will be limited to 3,000 pieces. They don't have a price yet. If you want to reserve yours, you can call them at (800) 835-8990. Thanks to Sarah for the info.
Houston signing: A few people mentioned to me that there might be a signing in Houston, Texas, in September. I called Fitz and Floyd and they had no information on it. Then I called the store that was supposed to have it, Gift Creations. They said that right now there's nothing definite, but they're trying to get one. They don't know what store would have it.
California signing: The signing August 15 at the Crystal Palace will indeed be held at the San Diego store, not the El Cajon one. Thanks to Maria for the information.
5/2/99
Concepts Direct exclusives: Michael Brennan confirmed that Stack-O-Sweeties is not yet sold out, just Take Time to Notice Those around You. Get 'em while you can! Michael also said that Concepts Direct will be offering another exclusive piece this fall, probably sold via direct postcards to those who have ordered Charming Tails from them before. It is supposed to have Maxine wearing "a VERY SPECIAL winter hat," according to Michael.
Leaf and Acorn Club kits: A few people have e-mailed me to let me know that you can indeed get the instant membership kits from stores.
Signing: Someone reports that a flyer from the Long Beach show has the August 15th signing in San Diego rather than El Cajon. Does anyone know which one is correct?
ICE pictures: Whoops! The person pictured with A World of Good Wishes on the Long Beach show page is actually Marcie Ward, a Fitz and Floyd representative, not Joanne. Sorry about that! My fault.
5/1/99
ICE pictures: I now have photos of the "tag" (thanks, Bob and Susan Weaver!) and button given out at the Long Beach show posted. Also, Joanne Edmondson sent me some great pictures of A World of Good Wishes.
Mid-year introductions: The latest issue of the Squashville Gazette talks about new pieces that should be released later this year. It includes pictures of all except You Quack Me Up.
89/101 Party Animals -- $22.00
89/105 You Quack Me Up -- $18.00
89/104 Together Every Step of the Way -- $18.00
89/102 A Gift of Love -- $18.00
89/103 Take Two Aspirin and Call Me in the Morning -- $15.00
89/100 Along for the Ride -- $18.50
Club memberships: The newsletter also said that stores can offer instant membership kits. Has anyone joined the Leaf and Acorn Club this way? Any stores you know of offering this?

Copyright 2005, Oak Leaf Publishing, Inc. All rights reserved. This web site is unofficial and does not intend to infringe on the rights of Fitz and Floyd or Dean Griff, makers of Charming Tails.
Revised: 02/20/06.