What's New! #13


(Older News Items January - December 2004)
12/17/2004
"Embrace Peace" A new piece has just become available - "Embrace Peace". We're not sure exactly what the distribution will be yet, but so far several stores have it for sale. You can call European Imports at 1-800-227-8670; Precious Gifts at 1-800-461-6813 or CharmingShoppe at 714-776-8660. We believe the retail price is $18.00.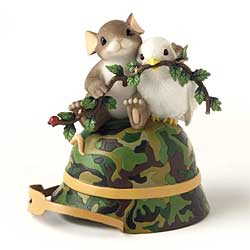 5/4/2004
Let's call them "variations" (Part 2)! We've learned more about the "You've Got Style" figurine. It seems that the factory had cloth dyed to make the veils and apparently the bolts were not properly dyed - some of the fabric was pink (as intended) and some was VERY light pink - almost white. It is very likely we'll see more "variation" in the color of the veils - with varying shades of pink/white. Since there is no way to know how many of each color veil were produced, it is not expected there will be any secondary market value difference between the two.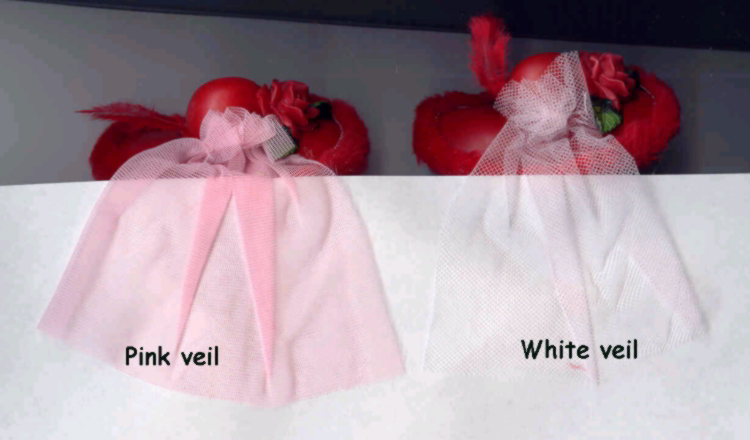 That is a piece of white cloth beneath the two veils, allowing you to see the difference in the fabric colors.
"The Haunted House" (85/114) - Several people have already noticed that there is a difference between the catalog (and box) photos of this piece and the actual production pieces. According to Fitz & Floyd, after they received the prototype (which was used for both the catalog and box photos), they decided to add a second ghost on top of the haunted house. They have also added several black bats on wires (so they can "fly" around the roof of the haunted house)!!
5/2/2004
Let's call them "variations"! There have been several instances of "problems" (we'll call them "variations") with some of the new Charming Tails pieces this year. Such as "Family Picnic" (98/272) which is part of the "Gold Signature Series" and was supposed to have the backstamp (on the bottom of the piece) in gold but were actually done in green. Well - there are a few more to add to the list:
"A Word to the Wise" (85/518) - As a early introduction, 1,500 pieces were produced for G&L Christmas Barn where the acorns were painted gold (instead of brown). These came with a Certificate of Authenticity that read, "Early Introduction, G&L Christmas Barn" and had the 2003 production mark (the teacup). However, we have now learned that an additional 744 pieces were made for the Canadian distributors with the gold acorns. The Certificates of Authenticity for these 744 pieces do not have the special "Early Introduction, G&L Christmas Barn" information and they have the 2004 production mark - a slice of cheese. Since the only difference between G&L's version and the Canadian version what is printed on the Certificate of Authenticity, it is not expected there will be any significant secondary market value difference between the two pieces.
"You've Got Style" (84/134) - This piece is a GCC Fall Early Introduction. First, it is NOT an "official" piece of the "Red Hat Society" as some Internet postings have indicated. (though I'm sure all the Red Hat Society members will be falling in love with this piece!) AND - we have learned that there are two different color veils attached to the hat - some have pink veils and some have white. The photo used in marketing has a white veil, though that was probably a picture of a prototype (and we know these can often have changes made before actual production starts). There is NO information yet as to how many of each (pink versus white) were released, so we'll keep you posted! Until such time, there is no way to know if there will be any significant difference in their values. We're hoping to have a photo soon - so be sure to check back!
Need an extra apron or cookbook? Fitz & Floyd have announced on their web site that members of the Leaf & Acorn Club can order extras of the Aprons and Cookbooks that were included in the 2004 Club Membership Kits. For more info, sign in at the "Member's Hideaway" on the Fitz & Floyd web site.
2004 Character Events! Fitz & Floyd have also announced that there will be 7 "Character Events" held at various Charming Tails Dealers around the U.S. this summer and fall. Please note: there are 7 or 8 NEW PIECES which will be introduced at these events, featuring the NEWEST resident of Squashville!! For more information, just click here!
4/20/2004
2004 Charming Tails Guide is here! Announcing - the 2004 Edition of the Charming Tails Price Guide! This year, this 200 page Guide includes 1,100 color photos of every Charming Tails piece! As always, we've includes LOTS of additional information: "What's Happening in 2004 ..." - all the new released - retirements - secondary market values - and MORE!! AND - the 2004 Edition of the Charming Tails Wish List is ready too! And now -- if you'd like to order using PAYPAL - click here!!
For more information about all of Oak Leaf Publishing 2004 publications - just click here!! Please note that the Collectibles Database is coming, too - and will be shipping in mid-May!
3/31/2004
Oak Leaf Publishing has grown! Well - if you made it here to the "What's New!" section, then you probably realize our web site has undergone a few changes. We are very proud to announce the addition of two new publications to the Oak Leaf Publishing Catalog: the Collectors' Guide to Adam Binder and Bits of Binder - A Collector's Checklist! This is very exciting and a sure sign of the continued growth Oak Leaf Publishing is looking forward to.
Don't worry - the 2004 Edition of the Charming Tails Price Guide, an updated Wish List and the Update for the Collectibles Database are all still coming! Look for an announcement (right here, of course!) in the coming weeks!
For you Charming Tails collectors, the major change is to the "home page" for Oak Leaf Publishing. Now, instead of coming directly to the Charming Tails Resource Page, you'll come to a Home Page where you can then select to go to the Charming Tails section or the Bits of Binder section. If you have any questions, we'll be more than happy to help you "find your way"! No major changes are being made at this time to the Charming Tails Resource Page - so you should have no problem continuing to use all the information and links!
To learn more about these exciting new publications, use the link on the Home Page to enter the Bits of Binder section.
03/15/2004
Flamingo Fling Print Count! As was previously announced by Dean, those prints that were not sold at the Flamingo Fling were destined to be destroyed. Well - we got the final numbers and 176 of the "You're My Favorite Companion" print were sold, so the remaining 124 have been destroyed. To see the print and Dean's original announcement, just click here!
2/22/2004
Flamingo Fling Info from Dean! We just got word from Dean himself about the exciting opportunities for collectors to add to the ornament, figurine AND PRINT collections. For more information, just click here!
Big Grizz going out of business sale! We have been told that Big Grizz in Williamstown, NJ is going out-of-business. For more details about what they carry and their SALE PRICES, just click here!
2/9/2004
David Grossman Creations Page added! Maybe it took a while, but we are very pleased to add a new listing on the Charming Tails Resource Page -- the excellent designs Dean created for David Grossman Creations of St. Louis, Missouri. To see all three lines (Wee Whispers, Holly Twig Lane and Essence of Innocence) - just click here!
2/8/2004
Wee Whispers Retirement! We just received word from David Grossman Creations: as of December 31, 2003, the entire line of Wee Whispers has been retired! Of course, there is still the Holly Twig Lane (Christmas pieces) and the Essence of Innocence (Dean's amazing angels), but if you were thinking about getting any (or all!) of the adorable rabbits in the Wee Whispers line - you better contact your dealer NOW - before they are all sold out!
2005 Charming Tails Caribbean Cruise! That's right - Fitz & Floyd have announced a Caribbean Cruise, exclusively for Charming Tails collectors in April 2005. For all the details and info, check out the 2005 CT Cruise page!
2004 Schedule of Events - updated! We've been getting word of LOTS of events for Charming Tails in 2004. Get the COMPLETE list - just click here!
12/13/03
2004 Signing Events! OK - we know its early, but we've already heard about several of Dean's 2004 appearances and Events.
First - It has been confirmed that Dean will be attending the Flamingo Fling this year on behalf of David Grossman Creations. That's Saturday, March 6th in Tampa, Florida. AND - they will be having TWO ornaments designed by Dean for sale. For all the details and info, check out the Flamingo Fling web site!
Second - there will be a SIGNING EVENT again this year at the Carlton Cards store in Pottstown, PA. Saturday, May 1st, from 1:00 to 4:00 PM. Also - there will be Spring and Fall exclusives available at the event AND they will have a special version of the Abbey Press exclusive "The Season of Peace" (87/135) - the one with Mackenzie tending the lion and lamb. Instead of snow on the base, the Carlton version will have sand, so it will match the new Nativity Set! More details to follow after the first of the year, as this is a pretty busy time of year for them!
Third - Fitz & Floyd have announced that there will be three Regional "Family Picnics" in 2004. The first, on May 15th, will be in St. Louis, Missouri. The second will be in June, in Salt Lake City, Utah and the third in August in Richmond, Virginia. Stay tuned for more details.
Also - we've learned that the Leaf & Acorn Club theme for 2004 will be centered around FOOD! You may have seen the print "It's a Piece of Cheese" - which looks like it will be the "logo" (Club Membership piece??). The 2004 Club Kit will include the Charming Tails Cookbook (you may remember Fitz & Floyd were asking earlier this year for members to send in their favorite recipes). The Cookbook will also have recipes from Dean, his family and the Fitz & Floyd staff. AND - you'll get a cookbook/recipe holder and a special lapel pin. Stay tuned for more details as they become available.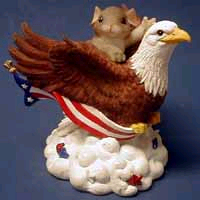 Many people were very excited this year when they saw the print of "American Pride" which features Mackenzie riding on the back of an eagle. Fitz & Floyd have announced that this piece (sure to be a BIG hit and VERY popular) will be available to dealers to order in January/February 2004 -- so make sure to stay in touch with your favorite CT Dealer - you won't want to miss out on this one. Fitz & Floyd have published a picture on their web site, so we thought you'd enjoy a "sneak peek"!
And (finally!) - Fitz & Floyd have announced that the 2004-2005 Charity piece will be "I'll Be Right Here For You" (89/166). This adorable piece features Maxine sitting inside a woman's hat. You might have heard (or seen, if you were at Rosemont this year) that there is a line of figurines coming featuring various Squashville characters sitting inside, wearing or otherwise playing with quite an assortment of hats. Sounds like "I'll Be Right Here for You" is the first in that series.
Oh - one more note. It SEEMS (although not confirmed) that Krause WILL be having the 2004 International Giftware and Collectibles Exposition in Rosemont, Illinois. A collector of another (unrelated) line indicated on one of the bulletin boards for that line that they had called Krause and spoke with a woman working on all the arrangements for the show. Every indication SEEMS TO BE that Rosemont 2004 WILL HAPPEN!! Again - no "official confirmation" yet - but keep your fingers crossed!
I have to take a moment to apologize for the extensive delays in getting this web site updated. As many of you know, my "day job" has had some significant changes lately, including having to work 150 miles away for about 10 weeks between August and October. Combined with working on the 2004 Charming Tails Price Guide, family matters, the Squashville Social Club, etc., etc. ... well, you get the picture. I'll be doing my best to try and have more "What's Happening" news and updates, but your patience is greatly appreciated! Happy Tailing!


Got any questions? E-mail me!

Check out older news items:
13. January - December 2004
12. January - December 2003
11. January - December 2002
10. July 2001 - Dec. 2001
9. Dec. 2000 - June 2001
8. August - Nov. 2000
7. January - July 2000
6. September - December 1999
5. May - August 1999
4. January - April 1999
3. July - December 1998
2. January - June 1998
1. November - December 1997

Copyright 2005, Oak Leaf Publishing, Inc. All rights reserved. This web site is unofficial and does not intend to infringe on the rights of Fitz and Floyd or Dean Griff, makers of Charming Tails.
Revised: 01/02/05.