What's New! #9


(Older News Items June 2001- December 2000)

Please Note: Some of the links may be out of date since these news items are now outdated. I'm keeping them here for new collectors.
06/20/01
BLOWN GLASS ORNAMENTS: Click on the link to see photos of the new blown glass ornament series to be released around September 2001.
05/17/01
Linda Anderson Exclusive Pin: Linda Gennest sent me a photo of the pin being offered with the Linda Anderson exclusive School Is Out For Summer. Remember, you can buy it separately or as a set with the figurine and save money. Ordering information is posted in the May 16th post.
05/16/01
Linda Anderson Exclusive: The new Linda Anderson exclusive is called "School Is Out For Summer" and is now available. It is 3 1/2" tall item # 25-2007 and retails for $25.95. There is also a School Bus Pin which you can buy separately, item #25-2015 that retails for $6.95.
They've even given us the opportunity to save money, by purchasing both items. The figurine and pin are Item # 25-1447 which retails for $28.95 plus S/H. Call 1-800-272-9236 to order yours now. Below is a photo of the
exclusive.
05/02/01
Anaheim ICE Report: Click here to read the wonderful report done by Gramma Jo Jo from Anaheim. Pictures will be posted later so check back....
04/26/01
2001 Mid-Year Releases: Click on the blue links to see photos of the new 2001 Mid-Year Introductions called Family Ties and Office Gifts due out later this year.
Prototype Winners: Here is the list of lucky collectors who won the prototypes at the Carlton signing event:
1. A Love Like No Other (Carlton exclusive with green leaf & yellow
ribbon) - Ann Boynton
2. Candy Kisses - Debbie Curtola
3. Good Cheers - Krista Fletcher
4. Silvestri Prototype - Lisa Greenwood
5. Honey Bunnies - Sandy Kovac
Retirement Announcement: Below is a list of pieces that are being announced as retired at Anaheim.
89/713 How Many Candles
83/703 Camping Out
82/109 Together Forever
84/101 I'm you Love Bunny
84/103 Our Love Has Blossomed
84/106 I'd Do It All Over Again
83/810 Friendship Is Always A Great
Bargain
89/719 I'm A Winner
88/702 Shhh, Don't Make A Peep
88/703 Motoring Along

83/101 Beach Bunnie
83/807 Triple Delight
84/100 Love Is In The Air
84/110 Love Birds
89/102 A Gift Of Love
89/715 I Love You A Whole Bunch
89/756 I Miss You Already
89/722 Picture Perfect
88/600 What's Hatchin
88/700 Chickie Back Ride
88/701 Paint By Paws

4/20/01
QVC RECAP: The host mentioned that the figurine The Berry Best was retiring on the show tonight however, it was on the list of retirements handed out at New Hampshire in Oct. 2000. Picture Perfect item #89/722 was retired during the show. They also included a special pin with the figurine which was exclusive to QVC and sold out during the show.
The new mid-year introduction Happiness Is Homemade was debuted on QVC and sold out. It will be in stores sometime around August. Dean said he designed it with the thought in mind of all the collectors who made the quilt for his 40th birthday and because both his grandmothers did a lot of quilting.
Dean did something unusual in signing the piece You're My Inspiration. He started by signing his name on the white ribbon, than the ear and finally on the bottom. Collectors who have ordered this piece will find his signature in 1 of the 3 locations.
Another exclusive to QVC was Hi Cookie with Ida Griff's Chocolate Chip Cookie recipe included with the figurine. Dean explained that this was done only for the QVC show & collectors will not find the cookie recipe with any of the figurines in a retail store and it sold out during the show.
The Four Seasons pins coincide with the seasons of the year: spring, summer, autumn and christmas and sold out on air. Each person attending the show was handed at random 1 of the 4 pins to wear for the show.
Dean announced on air that next year we will be seeing grayer mice in the line to coincide with everyone aging. The coffee spilling out of the mug in Morning Hare is actually glass painted the color of coffee and Lydia was placed on the newspaper to give lucky news. The following pieces sold out on air:
Happiness Is Homemade
You're My Inspiration (signed)
Set of Four Seasons Pins
Mom, You're Beautiful
Hear, Speak, See No Evil & It's Your Move
Follow Your Dreams
Hi Cookie (with cookie recipe)
Picture Perfect & Pin
You're Berry Special
QVC Tonight: Don't forget to watch QVC at 7:00PM EST. This is the first show to have a live audience with Dean. For those of you who do not get QVC, someone sent me a picture of one of the new mid- year releases so you can also see the new mid-year release that will be aired during the show.
The piece is from the series called Family Ties and it is a mid-year introduction called "Happiness Is Homemade" item # 89/125 and retails for $20. The other 3 pieces will be debuted at Anaheim #89/124 Family Portrait $18.00, #89/126 Home Is Where The Heart Is $20.00 and #89/127 You Always Measure Up $17.00.
04/19/01
Desk Set: Below is a photo from the Collector's Mart magazine showing the new Desk Set in Charming Tails.
04/17/01
QVC: You may now order the QVC exclusive Mom You're Beautiful by calling 1-800-345-1515 or via their website at www.qvc.com . However, you need to have your Q-member # and pin # to complete your order on line. Guess who doesn't remember their pin number <g> after I got to the end of the shopping cart. Here's the list of what's available:
C55659 Happiness Is Homemade
C56128 Morning Hare
C55870 I Have A Question For You
C55632 Mom, You're Beautiful (QVC
exclusive 4/20/01)
C56022 Set of 4 Seasonal Lapel Pins
C97724 Wash Away Those Worries
C97727 Reach For The Stars
C77813 You're A Real Lifesaver &
Come On In The Water's Fine
C79869 Follow your Dreams (earlier
QVC exclusive)
C77397 You're My Sweetheart
C77806 You're Cute As A Button
C79876 Be Thankful For Friends
C103061 Hear, Speak & See No Evil &
It's your Move
C103030 You're Berry Special
C103056 You're My Lucky Angel


C55641 You're My Inspiration (signed)
C55783 The Berry Best
C55690 Honey Bunnies
C55833 Hi Cookie
C103057 Picture Perfect Fig. & Pin
C97726 Candy Kisses (signed)
C79870 You're A Reflection of My
Affection
C79875 Maxine's Snowball Surprise
C77807 You're Pretty As A Picture
C103063 Love Expressions Bud Vase
C77812 Apple Of My Eye (signed)
C103027 Bringing Along A Little Love
(QVC excl from Jan. 2001
C103028 King Of My heart
C103029 Queen Of My Heart
C103065 Love Expressions Ring Box
w/lid
C103059 Maxine's Butterfly Ride
C103064 Love Expressions Candy Dish
04/16/01
Carlton Signing Event Prototypes: Click on this link to see the photos of the prototypes donated by F & F for the Carlton Signing event April 21st. Then click on the Carlton Retail Card link.
04/15/01
Variations: Tonight I posted photos on the site for You're Cute As A Button showing the red vs. purple button version and Chickie Chariot Ride with the yellow/red tulip chariot vs. red tulip chariot. Click on the blue links to see the photos.
04/07/01
Gifts and Accent Signing Event: Click here to see the information reported by Carol "Scooter" Burbridge from the Gifts and Accent signing event today. Click here here to see a photo of the coaster set given to collectors who attended the barbecue luncheon before the signing event.
Carlton Prototype: Today I made the trip to Pottstown to photograph the second prototype that arrived. Click here to see the 2 different prototypes of Carlton's exclusive piece for Mother's Day called "A Love Like No Other."
Check out Carlton's website for information regarding the silent auction for a prototype and how to place a bid by clicking on the below link:
http://www.carltoncards.com/storeevents.asp .
Canadian Exclusive: Click here to find how to purchase the first ever Canadian exclusive "Take Friendship Under Your Wing."
04/05/01
Gifts and Accent Signing Event: There will be a barbecue luncheon from 11:30am-2:00pm. The cost is $25 per person and the deadline for the reservation for the luncheon is April 5th. Those who attend the luncheon will receive a free coaster set imprinted with a picture of "A True Blue Friend."
Dean is scheduled in the store to sign your pieces from 2:00pm-4:00pm. You can bring 2 pieces from home and any thing you buy that day will also be signed.
Mike Brennan's Secondary Price Guide: Mike Brennan's 2001 Charming Tails Price Guide is now available. This release is the 4th edition,
and now features full color photos of each piece. The price is $11.95 plus $2.50 shipping for the first copy and $1.00 for each additional copy ordered. Check or money order, payable to Oak Leaf Publishing. You can contact Mike at CTauthor@OakLeafPublishing.com to place an order.
03/28/01
Changes At F & F: F & F is making some changes and adding new staff to the company. We'd like to say welcome aboard to Debra Phillips, the new Public Relations Representative at F & F. She will be managing the Leaf & Acorn Club, specific events, coordinating the material for the website and various other community relations projects. Anyone planning on attending the QVC show or the Carlton signing event, you can personally get to meet her.
Looks like Debra's been really busy these last few days getting important information posted to the site. Please don't miss out on the new information that is now posted to their site. There is some very interesting information regarding Penny For Your Thoughts, Cute As A Button, G & A signing event, G & L Cruise, Dancin' Darlings musical and various other postings.
They are also asking for our input on a new future item by sending in your response via email. Click on the link below to be taken to their site. Than click on the What's Hot at the top of the web page. Make sure you read everything to the bottom of the page.
03/21/01
Snowshoe Sweetie: Snowshoe Sweetie is an exclusive of 3,000 pieces and is still available. The exclusive figurine can only be purchased at Simply Christmas while supplies last. You can order it online at www.simplychristmas.com. They also have a large selection of retired and current inventory.
03/16/01
Carlton Signing Event Info: Any collector planning on attending the signing event please remember to bring along your 2001 Club Membership Card. When you present your membership card at the signing table you will be given a special surprise. Last year, collectors received a green Charming Tails pen. This years token is also really neat. Sorry, I can't spoil the surprise I've been sworn to secrecy.
For this years show, there will be several prototypes that lucky collectors will receive. Even collectors not attending will be eligible if you made a purchase for at least 1 of the prototypes. Two of the prototypes expected at the show are one-of-a-kind prototypes of the Carlton Exclusive A Love Like No Other. On one version the leaf is brown instead of green. The second version has a green leaf but has a brownish pink ribbon instead of pink. Details are still being worked out and as soon as they are finalized I'll pass it on.
Don't forget to order the exclusive while there is still time. It is limited to 3,000 pieces and it is the first ever Charming Tails piece that really rocks. You can call the Carlton store at 1-610-323-6332 or email the manager Kathy at Cotlet@aol.com to place your order for the exclusive.
03/15/01
It looks like while I was at the Fling lots of new things happened. Lets see if we can catch up:
My Website: As you may already know, 3 of my boards went down while I was at the Fling. I was only notified a few hours before leaving that Inside The Web was no longer offering any Message Boards. This gave me little time to do anything about replacing the boards since I was packed and ready to leave for Florida. There will be new boards going up by the end of the month.
QVC: On April 20th, Dean will once again be appearing on QVC at 7:00pm EST. This should be an exciting and different experience for Dean, as it will be his first ever live show with an audience. You can call 1-800-600-9900 to purchase a ticket for the show. The hours are M-F 9am to 4pm EST.
The QVC exclusive piece is called "Mom You're Beautiful." A pin that was to be offered during the Jan. show was not put on air will now be offered during this show called "Picture Perfect." There will be a second pin offered called "Four Seasons" and the piece that will be signed is "You're My Inspiration." None of these items can be ordered until closer to air time. I will give you the item #'s and phone number as soon as we know.
LINDA ANDERSON EXCLUSIVE: This time, Linda Anderson is doing a series of seasonal figurines called "Four Seasons of Friends." There will be 4 figurines shipped every 3 mths. (Spring, Summer, Autumn and Winter). The final shipment will include a free base with a glass dome to display the figurines. Each figurine is limited to 3,000 pieces and the retail price for each is $36.95 plus $6.95 S/H.
I seen this entire series on display at the Fling. The overall size of each piece is very large and well worth the price. The colors on each piece are fabulous and so true to life form, I thought the bird on the Autumn piece was going to fly off the branch at any moment.
Spring Exclusive - "Friends Help Warm Our Lives"

Summer Exclusive - "Friends Are There To Share"

Autumn Exclusive - "Wherever You Land I'll Be There"

Winter Exclusive - "Holly Jolly Friends" with a free glass dome base
that has a 4 sided flower design for the different seasons to coincide with the seasonal figurine.
You can place your order now. Call 1-800-272-9236 and give the Key Code K-YEWF and product # 257908 to order the series.
First Ever Dinner Cruise: Join Dean aboard the Camelot Cruise Ship on July 8th with his family, friends, staff members of F & F and G & L Christmas Barn and fellow Charming Tails collectors on the first ever dinner cruise on the Conn. River.
Reservations are requested and seating is limited to 250 guests. The price is $85 per person which includes a chicken dinner, open bar & dessert. The ship departs out of Haddam, Conn. at 11am and returns at 3pm. Call G & L for reservations now at 888 -737-5600. Seating is on a first come, first serve basis so don't delay.
The Fling: Once again the Fling committee did an excellent job in preparing the entire event. The money raised by the end of just the auction alone, had surpassed both days last year. There were probably close to 100 items that were auctioned off during the evening including pieces donated by other companies and artists.
However, I'm only going to report what F & F put up for auction. Unfortunately, I forgot my digital camera, perhaps I can find someone who will share so we can see photos. I also forgot to write down who all the winners were and some I just don't know because it was too crowded to see who was bidding. Does anyone get the impression my head wasn't on straight....
Charming Tails set of 2 never-produced prototypes. "Berry Toss" & "Prizes" were created on the larger scale for the "County Fair" that later became Teeny Tiny Tails (the Albrecht's from Wisconsin were the lucky winners)

Charming Tails "Walnut Box" prototype created in 1996 for Noah's Ark series, but never introduced. 1 of only 6 produced (Sharon "Mausnut" was the lucky winner)

Charming Tails "Love Votive" candleholder. 1 of only 2 first versions produced from current "Our Love Burns Bright." Prototype has heart spots instead of dots & mice changed from sitting to standing on either side of mushrooms.

Charming Tails one-of-a-kind "Moon and Stars" prototype. Never produced due to candle concern in nursery. Only one in existence (the Zugay's were the lucky winners)

Original artwork "The Waterslide" from Charming Tails aritst, Dean Griff (the Zugay's were the lucky winners)

Charming Tails set of 2 "County Fair" prototypes. "County Fair" sign welcomes visitors while Chauncey sells tickets. Both produced on a larger scale before size was reduced to "Teeny Tiny Tails." (Peggy "earsantail" was the lucky winner)

Woodland Winds collection of retired ornaments, figurines & Nana Leaf (Diane "Binkey" was the lucky winner)

Charming Tails set of 2 prototype bells (bell from peppermint giftware series). First version made with striped bell. Second version clear glass bell with red glass clapper. These 2 bells are one of only 2 known to be in existence.

Charming Tails "Lidded Ring Box Set." First version with blue leaves was too large & this prototype is the only one in existence. In the second version, the mouse was too small. The third version was released this year.

Charming Tails "Golden Hubbard Bed & Breakfast" is the only prototype known to exist in the Charming Tails Village. Was designed to be released in 1996 but decision was made not to produce it. (Sharon "Mausnut" was the lucky winner)

Charming Tails "Toasting Marshmallows". There are 3 prototypes. The first version was made in 3 separate pieces and only 1 in existence. The second version is on one base but marshmallows looked burned. Version 3 is a sample piece and looks just right. (Peggy "earsantail" was the lucky winner)

Dean Griff of Charming Tails created "Friends Are The Flowers Of Life" original painting exclusively for the Flamingo Fling. (the Albrecht's from Wisconsin were the lucky winners)

Charming Tails "Hang On" prototypes. Version 1 was Mackenzie & Chauncey with pastel balloons. Version 2 was Mackenzie & Chauncey with a kite. Also included is the GCC piece with Binkey & Stewart with primary colored balloons. (Diane "Binkey" was the lucky winner)

Charming Tails "I'm Stuck On You". Yellow bow at Mackenzie's left foot was never produced. Only a few prototypes exist & was used in the 2001 catalog photo. Blue bow at his left foot is currently in production. The metallic gold bow at left foot was a special color run of only 1,500 pieces & sold as an exclusive to G & L Christmas Barn. The matte color bows were never actually produced. Only a few prototypes exist & were used for the photo on the box for this figurine.
02/10/01
2001 Club Kit: Scooter got her 2001 Leaf & Acorn Membership Kit today. Below is a photo she took of a piece called "You're A Real Gem" taken from the 2001 Charming Tails calendar which is included inside the kit. Stay posted I'll try to find out more about this mysterious piece.
Mike Brennan has informed me You're A Real Gem will be the Fall Open House piece and will retail for $18.00.
02/03/01
OUR LOVE BURNS BRIGHT VOTIVE: The following information was provided by Dean so collectors understand the ordering process for Our Love Burns Bright:
The votive, Our Love Burns Bright CAN NOT be ordered by any retailer without ordering a number of giftware prepacks and CAN NOT be reordered without ordering more giftware prepacks. So as you can see, this piece will be "very" limited.
As far as retailers reordering more pieces. This can only be done if they order more giftware prepacks and they will only receive a dozen pieces per 4 prepack buy ins. Retailers are not being charged for the votive. It is a gift to the retailer to show our appreciation of their continued support of our giftware line. This is why a retailer cannot order them because they are not being sold.
Canadian Exclusive: Fletcher's Creek Gifts is now taking pre-orders on the Canadian exclusive "Take Friendship Under Your Wing" Item # 98/262 due out in the spring 2001. It will retail in Canada for $27 and US dollar exchange is $18.50. Call them toll free 1-866-479-1830.
02/01/01
Canadian Exclusive: Rhonda passed me a message that Precious Plates has a photo posted of the Canadian exclusive called "Take Friendship Under Your Wing" item # 98/262 and will retail for $27.00. Click on the link to see a photo then left click Charming Tails and scroll down to the photo. Sorry the entire link will not work from my website like I posted on the bulletin board.
I'll be posting other Canadian retailers as soon as I get a list of stores from F & F who will carry the Canadian exclusive.
Carlton Signing: If you have already ordered from the store they will have the following pieces available for the signing event. However, they are limited, some very limited and on a first come basis so you will need to call back immediately. The store is limiting collectors to 1 piece per order there are no multiplies in the following pieces:

(1) Our Love Burns Bright (retailer Holiday incentive)
(2) Sports Displayer (displayer for sports figurine dealer displayer)
(3) Charming Tails Mobile (you can see a photo of this on my master list
and search for Charming Tails Mobile)
The following pieces will be available for the show: A Treasure of Memories (2000 Open House pc), On The First Day Of Christmas (1999
Open House pc) and Love Is Timeless (Monique's excl) in limited supply.
They were informed that any pieces produced in China before April 1st will be available at the show. This means we will be able to purchase the Giftware for Fall and Christmas, Halloween, Christmas pieces, dinner plate and cookie jar and other accessories. You can call back and place any of these items on your list and if they arrive your guaranteed the item. Or, call back closer to the date and see what has arrived. Call (610)-323-6332
1/25/01
SIGNING EVENT AND STORE EXCLUSIVE: Carlton Cards will be hosting another signing event along with a store exclusive on April 21st at the Coventry Mall, Pottstown, Pa. I will post the time of the event later.
The Carlton Cards store exclusive piece is called "A Love Like No Other." Maxine is sitting in a leaf rocking chair with her baby....it actually rocks! It will be a limited edition of 3,000 pieces for Mother's Day and will retail for $19.00.
The name of the signing piece is called "Your A True Blue Friend" and will retail for $18.00 The store will start to take orders for the signing event starting Jan. 29th. You can call them at 610-323-6332 or 610 323-7425. Anyone calling to have pieces pre-signed is guaranteed 1 each of the signing and exclusive piece signed. Any other pieces ordered will depend on whether Dean has time to sign anymore.
QVC: You can now place your order for the QVC exclusive piece called "Bringing Along A Little Love by calling 1-888-345-5788 Item # C103027. The price is $21.00 plus S/H You can also order online if you have the Q card by going to their website at www.qvc.com and type in the keyword Charming Tails. There will be a listing of all pieces available for the show Jan. 26th @ 3pm.
.1/23/01
Sneak Preview: Scooter sent me an email to let me know that Stiers has posted a photo of the new 2001 Parkwest Spring Catalog exclusive. It is called "Bicycle Built For Friends." You can see a photo by clicking on this link www.stiers.com/whatsnew/whatsnew.html . Left click Whats New and left click Charming Tails to see the photo. It is too cute!!!
1/17/01
2000 Retirement Additions: For all of you who keep track of pieces that have retired, here are some more to add to your lists.
2000 Snowflakes Ornament
Apple Of My Eye
Bootie Baby 2000 Ornament
Budding Romance, A
Christmas Treasures
Cookies For Santa Orn
Cotton Claus
Follow The Bouncing Ball
Follow Your Dreams
Good Cheers
Happy Holiday Bouquet
Headin' Down The Friendship Trail
I Get A Kick Out Of You
Keep Your Eye On The Birdie
Kiss-mas Lights
Love Is Timeless
Mom's Give The Best Hugs
Our 1st Christmas 2000 Orn.
Peek-A-Boo Bouquet

Ready To Take A Swing At It
Santa Imposter
Silent Night, Holy Night
Spare Me
Sunny Side Up Magnet
# 1 Teacher Ornament
This Is The Key lapel pin
Touchdown
Treasure of Memories, A
Tulip For Two, A
Two Love
Warm Woolen Mitten, A
We Make Beautiful Music
Wee...Three Kings Figurine
You Hold The Key To My Heart
You Turned My Life Around
You're My Snowflake
1/16/01
A Message From Dean
As I explained in an earlier post, Dancin' Darlings musical was intended to be introduced in the spring of 2002. Due to a mix-up, the musical was taken to a recent gift show and some orders were taken. This problem has been resolved and only a few of the musicals were shipped to some retailers. However, the remainder of the musicals will not be distributed until the scheduled introduction date in the spring of 2002.
Only a handful of lucky folks got this musical and collectors were lucky to see a very early, unplanned preview of what's coming for next year. On behalf of F & F and myself, I'd like to apologize to collectors who were hoping to get this musical now.
When you see the new pieces that go along with the musical you will understand why they needed to wait and release all the pieces at one time. There will be some real surprises throughout this year and I'm looking forward to seeing you all very soon.
Love,
Dean Griff
1/11/01
2001 Catalog: I just put up the new link for the catalog section. I posted a sneak preview of the new 2001 catalog. There is important information I posted on this page regarding your future redemption certificates, so read it.
I would like to say that the graphics in the 2001 catalog are absolutely exquisite However, to make the book look beautiful, these graphics take up much space. I as a collector would like to see the graphics go and consolidate the photos to put our retirement section back in the book. We don't need or want beautiful just something simple that is informative.
1/10/01
QVC Postcard: I just posted the new QVC postcard being sent to Leaf & Acorn Club members to announce the upcoming QVC show Jan. 26th at 3:00 pm EST.
11/05/01
Dancin' Darlings Musical: Below is a photo of the much talked about musical called #93/208 Dancin' Darlings that will retail for $39.00. Not too much is known about the musical yet because it has not been unveiled by F & F. They have confirmed the piece and said it will be available to ALL retailers and it will be limited. It is to say the least "breathtaking."
However, the person who confirmed the info did not know whether this meant limited in production like Wait For Us where they only produced 3,000 pieces or if the piece was limited by year. She did say there would be plenty to go around and for collectors not to worry. On Sunday, I'll be posting more information about the piece when we find out more details after a show.
1/04/01
2001 Club Kit Renewal: Keep checking your mail! We should be getting our renewal reminders for the new club kits this month.
Upcoming Shows: Several collectible shows are coming up for retailers only, One is scheduled in Penna. on Saturday and next week in Atlanta. We should be hearing some news on what's happening in the Charming Tails line from these shows. Keep those mouse ears posted!
1/03/01
QVC Appearance: Dean will be appearing on QVC, Jan. 26th at 3:00pm (EST). QVC will be having another limited piece called Bringing On A Little Love item # 98/245. This piece can only be purchased through QVC the day of the show.
Bringing On A Little Love

12/28/00
G & L Christmas Barn Surprise: Check out Charming Dave's website for the big secret @ www.charmingdave.com. He also has a listing of the new 2001 pieces. I also want to mention that the bow leaning against the mouse's left leg is the gold bow that will change to blue when it is re-introduced later. It is not the bow on top of the mouse's head like we had been previously told.
I'm Stuck On You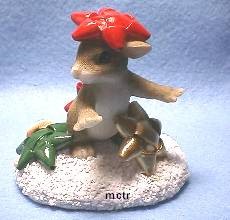 12/21/00
A Treasure Of Memories: F & F informed collectors in the last Gazette they had produced 2,800 pieces with a special bottom stamp called the signature series with Dean's name in red. I posted a photo of the special bottom stamp which can be found by clicking on the Master List and going to A Treasure Of Memories. This was done so collectors knew how the red signature looked.
A few weeks ago a lucky collector purchased this piece with the special bottom stamp in red. Or at least she thought she did. However, after comparing it to the photo I posted on my site, she noticed that the copyright symbol was also done in red and Dean's signature was printed. It was obviously different from the photo I had posted making her think that the piece she purchased could have been altered.
It appears that F & F has been holding out on us collectors with an even bigger surprise. Here is Yvette's explanation:
"When we did the special backstamp, about 100 were done with a printed copyright stamp instead of the signature stamp. They are authentic and there are only about 100 out there like this."
QVC Appearance: Dean will be on QVC Friday, January 26th at 3:00 pm (EST). QVC will have a special piece for the show called "Bringing On A Little Love."
12/08/00
Site Transfer Completed: After nearly 11 hours of uploading files yesterday, the site has been officially transferred at 10:48pm last night to www.ctresource.net. Yahoo is allowing the old site at charmingtails.simplenet.com to remain there as a courtesy until June 2001 so people know where to find the new site location. However, it would be a good idea to bookmark this site www.ctresource.net and start to use it, rather than using the old site at simplenet. Updates may not occur at the old site location.
12/06/00
GCC Spring 2001 exclusive: Below is a photo of the new GCC spring exclusive for 2001.
98/258
Kissing In The Park
$20.00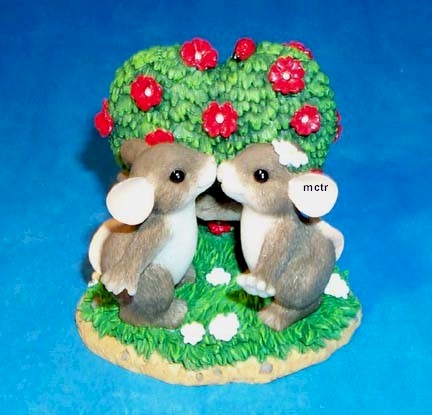 12/05/00
New Domain Name For Site: After repeated requests by Yahoo to get rid of the simplenet account, I finally started the process of changing the site name. The site will have a few days of downtime starting early tomorrow 12/6 (if not sooner) until everything gets completely transferred over to the new site. If everything goes as planned (when does it) the new location should be up and running by sometime Friday. You can find the site at www.ctresource.net so make sure you bookmark the new location. Personal emails can still be sent to mitzie@csrlink.net but anything pertaining to Charming Tails or the site should be sent to Becky@ctresource.net when the site is up and running.
12/01/00
Last Signing Event: Saturday, Dec. 2nd (tomorrow) is the last signing event for the year. It will be held at the Christmas Store @ the Marketplace outside Disney from 1-4 pm. The store carries seasonal items only and has a very limited supply of A Treasure Of Memories to be signed. Collectors may also bring in pieces from home to be signed.

E-mail me!


Copyright 2005, Oak Leaf Publishing, Inc. All rights reserved. This web site is unofficial and does not intend to infringe on the rights of Fitz and Floyd or Dean Griff, makers of Charming Tails.
Revised: 02/20/06.