FOLLOW THE STAR
98/214 Follow The Star
Special Edition 1999; NALED exclusive
Dated 1999
Original selling price: $24.00
Introduced: September 1999
Issued: 1999
Retired: 1999
Follow The Star is a Fall 1999 NALED/Parkwest Exclusive. It can only be purchased at a NALED store. Below is Dean's original concept drawing of Follow The Star.
In the second photo is a picture taken from the box showing no face on the star. The star appears to be attached by wire rather than plastic.
(Images may take some time to load. All original photos are the subject of copyright protection. Thanks to Michelle Walker for the photo.)
ORIGINAL CONCEPT DRAWING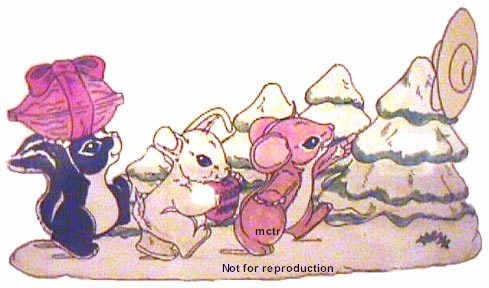 Copyright 2005, Oak Leaf Publishing, Inc. All rights reserved. This web site is unofficial and does not intend to infringe on the rights of Fitz and Floyd or Dean Griff, makers of Charming Tails.
Revised: 03/17/04.