AND THE STARS! CLUB LAPEL PIN
97/17 And the Stars! Lapel Pin
1999 Club Renewal Bonus - Free Incentive Offer
Introduced: June 1999
Issued: 1999
Retired: 1999
Members of the Leaf & Acorn Club who renewed their club membership before March 31, 1999, received this free lapel pin through the mail from F & F called And The Stars!
(Images may take some time to load. All original photos are the subject of copyright protection. Thanks to Michelle Walker for the photos.)

The pin was accompanied by a thank-you card.
Front of Thank You Card
Inside of Thank You Card
( is a note from Dean)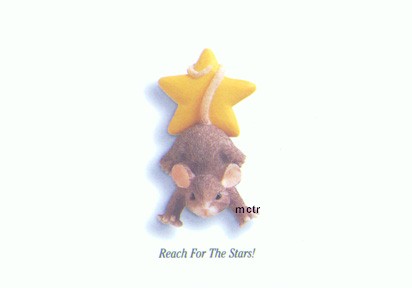 Copyright 2005, Oak Leaf Publishing, Inc. All rights reserved. This web site is unofficial and does not intend to infringe on the rights of Fitz and Floyd or Dean Griff, makers of Charming Tails.
Revised: 12/20/04.