DIVE INTO THE HOLIDAYS
887/208 Dive Into The Holidays (early NALED release)
87/208 Dive Into The Holidays (2000 release)
NALED early release 1999
Original selling price: $22.00
Introduced: September 1999 (early NALED release); Introduced: May 2000 (regular dealers);
Issued: 1999 (early NALED release); Issued: 2000 (regular dealers)
In 1999, Dive Into The Holidays was released early to all NALED/Parkwest retailers. This gave the NALED/Parkwest retailers the opportunity to sell Dive Into The Holidays for one year before it was released in 2000 to the other Charming Tails retailers.
This early release of Dive Into The Holidays is identical to the same piece released in 2000 with the exception of different item numbers. The item number on both the box and understamp of the early release is 887/208; the item number for the later release is 87/208. Some collectors think the additional number 8 on the early NALED/Parkwest release is a misprint. F & F gave the early release the additional number 8 to differentiate between the two releases.
Below is a picture of Dean's original concept drawing of Dive Into The Holidays.
(Images may take some time to load. All original photos are the subject of copyright protection. Thanks to Michelle Walker for the photo.)
ORIGINAL CONCEPT DRAWING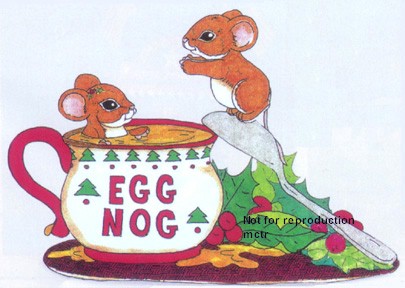 Copyright 2005, Oak Leaf Publishing, Inc. All rights reserved. This web site is unofficial and does not intend to infringe on the rights of Fitz and Floyd or Dean Griff, makers of Charming Tails.
Revised: 02/20/06.