RIDING ON THE WINGS OF FRIENDSHIP
98/207 Riding on the Wings of Friendship
1998 Special Event Piece
Dated 1998
Original selling price: $18.00
Introduced: November 1998
Issued: 1998
Retired: 1998
Riding On the Wings of Friendship was only available at selected retailers. Dean pre-signed one event piece for each store. The retailers selected were allowed to choose one of the following dates to hold their open house event: November 7-8, 14-15. You had to purchase another piece to be able to buy an event piece. This figurine was the first Open House piece in Charming Tails.
Below is a photo of the postcard Riding On The Wings Of Friendship. The postcards were given to dealers who were having the Open House event by F & F. The stores mailed the postcards to customers to announce the upcoming Open House.
(Images may take some time to load. All original photos are the subject of copyright protection. Thanks to Michelle Walker for the photo.)
Riding On The Wings Of Friendship Postcard
(Thanks to Rona for the photo)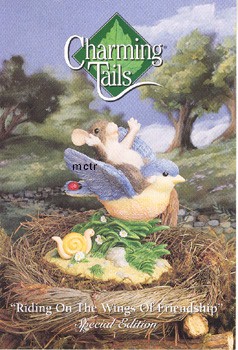 Copyright 2005, Oak Leaf Publishing, Inc. All rights reserved. This web site is unofficial and does not intend to infringe on the rights of Fitz and Floyd or Dean Griff, makers of Charming Tails.
Revised: 12/20/04.