CHRISTMAS CARDS

Below are photos of Christmas Cards sent by Dean Griff to family and friends through the years. The following Christmas Cards may not be reproduced in anyway. The copyright to the artwork is held exclusively by Dean Griff.
Some of the artwork Dean has done on the Christmas cards below are similar or bear resemblance to actual Charming Tails pieces produced in the line.
1995 Christmas Card resembles Happy Holiday Bouquet
1997 Christmas Card resembles My Little Chick-A-Deer
1998 Christmas Card resembles Everybody Sing with some changes in the piece such as one of the birds being replaced by Binkey holding a music book and the mouse holding a baton and music book.
(Images may take some time to load. All original photos are the subject of copyright protection.)
2001 F & F Christmas Card Front
(thanks to Scooter for the photo)


Card Back
(thanks to Scooter for the photo)

2000 Christmas Card
(Thanks To Scooter for the photo)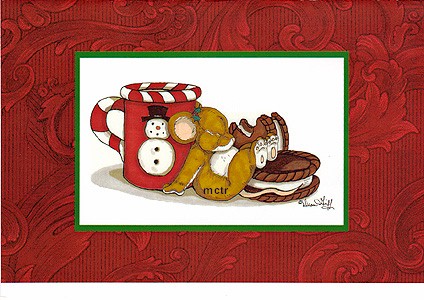 1999 Christmas Card
(1 of 400 cards)

1998 Christmas Card


1997 Christmas Card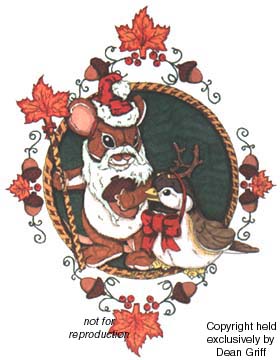 1996 Christmas Card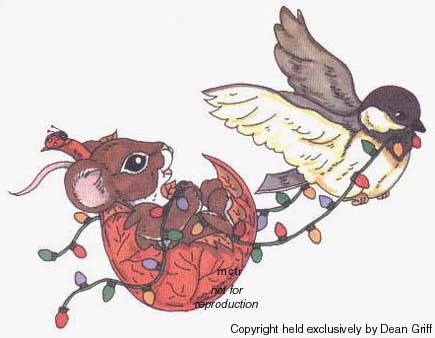 1995 Christmas Card




Copyright 2005, Oak Leaf Publishing, Inc. All rights reserved. This web site is unofficial and does not intend to infringe on the rights of Fitz and Floyd or Dean Griff, makers of Charming Tails.
Revised: 02/20/06.