I'M STUCK ON YOU
887/118 I'm Stuck On You (gold bow)
87/118 I'm Stuck On You (blue bow)
Original selling price: $18.00
Introduced: December 2000
Issued: 2001
I'm Stuck On You is an early introduction and was produced with a metallic gold bow under item # 887/118. There were only 1,500 pieces produced with the metallic gold bow which is sold as an exclusive piece by G & L Christmas Barn . Originally, this piece was to be sold on QVC but due to circumstances it never made it on air.
The regular production piece will be released later this year having a blue bow instead of the metallic gold. There are 2 other known versions of I'm Stuck On You. The piece used for the 2001 catalog has a yellow bow but was never produced. Another version of I'm Stuck On You was used on the box photograph and it has a matte color.
The bottom photo is a photo taken during the 2001 Flamingo Fling of all 4 versions of I'm Stuck On You.
(Images may take some time to load. All original photos are the subject of copyright protection. Thanks to Scooter for the photo.)
| | |
| --- | --- |
| Early Introduction with Metallic Gold Bow | Regular Production Piece with Blue Bow |
4 Different Versions of I'm Stuck On You
Matte Color Bow, Yellow Bow, Metallic Gold Bow & Blue Bow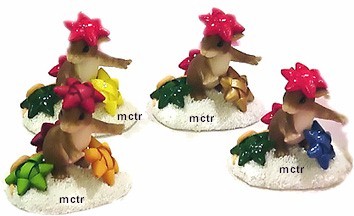 Copyright 2005, Oak Leaf Publishing, Inc. All rights reserved. This web site is unofficial and does not intend to infringe on the rights of Fitz and Floyd or Dean Griff, makers of Charming Tails.
Revised: 02/20/06.