ROWBOAT ROMANCE

83/801 Rowboat Romance
Original selling price: $17.00
Introduced: 1997
Issued: 1997
In the left photo, the flower over Maxine's head is white, but in the 97 catalog (p. 2) and photo on the box Maxine has a pink flower over her head. On the right is a photo taken from the catalog showing the pink flower Maxine is holding over her head. The samples were made with the pink flower. Rowboat Romance was on the list of top sellers in 1997.
In the bottom photo is the Rowboat Romance repainted like a black eyed susan that was handed out to the 250 guests who were aboard the G & L Christmas Barn Cruise on July 8th, 2001. Click on the link to see the other items included with the figurine.
(Image may take some time to load. All original photos are the subject of copyright protection. Thanks to Scooter for the photo.)
| | |
| --- | --- |
| Actual Production Piece | Sample Piece |
Rowboat Romance Variation
(only 250 made)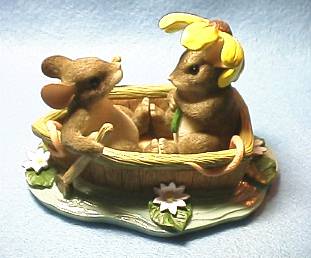 Copyright 2005, Oak Leaf Publishing, Inc. All rights reserved. This web site is unofficial and does not intend to infringe on the rights of Fitz and Floyd or Dean Griff, makers of Charming Tails.
Revised: 02/20/06.