RICH IN FRIENDSHIP
97/25 Rich In Friendship
Leaf & Acorn Club exclusive 2001
Original selling price: $29.50
Introduced: January 2001
Issued: 2001
The 2001 Leaf & Acorn Club Membership piece is Rich In Friendship. Included with the figurine is a lapel pin called "Lucky Coin", a personalized membership card, 2001 Charming Tails catalog, Charming Tails 2001 Calendar, 2001 pocket planner and Thank You card.
This year F & F has given collectors the option to renew their membership for 2 years. Inside each club kit will be the redemption forms for all 2001 members only pieces. They will not be mailed to collectors like before so make sure you redeem them at the appropriate times to your local retailer or you might miss out on a members only piece.
You can join or renew the Leaf & Acorn Club by:
1) calling the club at 1-877-435-CLUB or visit F & F's website at
www.charmingtails.com
2) visit your local Charming Tails retailer and purchase an Instant
Membership Kit.
The year 2001 was the fourth year of the Leaf & Acorn Club. Below is a photo of the Thank You card that is included with the Leaf & Acorn Club Kit.
(Image may take some time to load. All original photos are the subject of copyright protection. Thanks to Scooter for the photo.)
2001 Thank You Card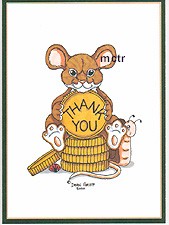 Copyright 2005, Oak Leaf Publishing, Inc. All rights reserved. This web site is unofficial and does not intend to infringe on the rights of Fitz and Floyd or Dean Griff, makers of Charming Tails.
Revised: 02/20/06.