KISS-MAS LIGHTS
87/205 Kiss-Mas Lights
Limited Edition (not hand numbered)
Introduced: May 2000
Issued: 2000
Retired: 2000
Below is a photo of a postcard sent out to collectors from Linda Anderson's Collectibles, a mail order company. This is the same company that had several exclusive limited editions in the Charming Tails line under Concepts Direct.. On the inside and back of card are several photos showing the new Fall, Holiday and Candy Cane Giftware items.
In December 1999, collectors received an unexpected surprise through the mail. Fitz and Floyd sent each Leaf and Acorn club member a Christmas card. In the photo below is the card showing the original artwork Dean did for the figurine Kiss-Mas Lights.
(Image may take some time to load. All original photos are the subject of copyright protection.)
Linda Anderson's Collectibles Postcard
(Thanks to Rona for the photo)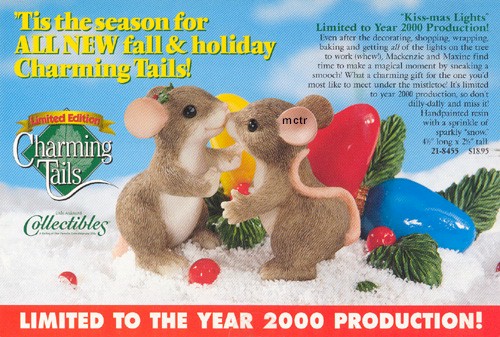 F & F Christmas card 1999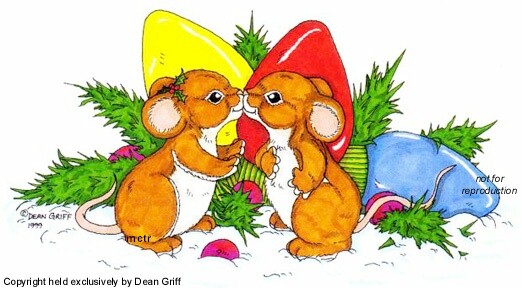 Inside of card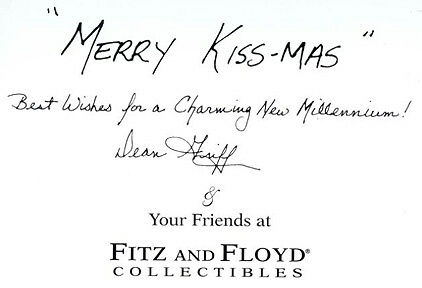 Copyright 2005, Oak Leaf Publishing, Inc. All rights reserved. This web site is unofficial and does not intend to infringe on the rights of Fitz and Floyd or Dean Griff, makers of Charming Tails.
Revised: 02/20/06.