HARVEST TIME HONEYS
85/882 Harvest Time Honeys
Original selling price: $18.50
Introduced: June 1999
Issued: 1999
The 1999 catalog (p. 18) and photo on the box show Harvest Time Honeys with white daisies on the ground. The actual production piece of Harvest Time Honeys has orange leaves on the ground instead of white daisies. The daisies were probably changed to orange leaves because Harvest Time Honeys is considered a fall piece and daisies would represent spring/summer.
The prototype of Harvest Time Honeys is called Harvest Moon Honeys. It was donated by F & F for the Flamingo Fling Charity Auction in 1998.
Below is a photo of the postcard mailed to collectors from Linda Anderson's Collectibles, a mail order catalog company. It announces several new pieces available in the Charming Tails line.
(Images may take some time to load. All original photos are the subject of copyright protection. Thanks to Scooter for the photo.)
Harvest Time Honeys Postcard
(Thanks to Rona for the photo)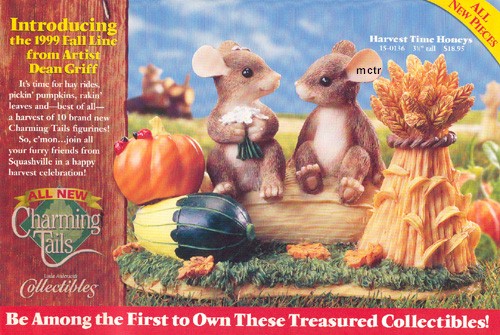 Copyright 2005, Oak Leaf Publishing, Inc. All rights reserved. This web site is unofficial and does not intend to infringe on the rights of Fitz and Floyd or Dean Griff, makers of Charming Tails.
Revised: 02/20/06.