DUCKLING VOTIVE
89/315 Duckling Votive
Original selling price: $12.00
Introduced: 1994
Issued: 1994
Retired: 1994
The Duckling Votive has the highest secondary value of all candleholders and votives in Charming Tails. This piece is one of the hardest to acquire. Inside the egg shell between the two ducks is a glass votive with tea light candle.
(Image may take some time to load. All original photos are the subject of copyright protection.)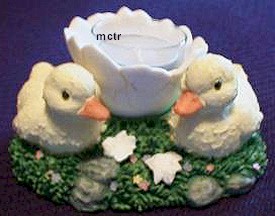 Copyright 2005, Oak Leaf Publishing, Inc. All rights reserved. This web site is unofficial and does not intend to infringe on the rights of Fitz and Floyd or Dean Griff, makers of Charming Tails.
Revised: 12/20/04.