DEALER DISPLAY UNITS
Below are some dealer display units that have been produced by F & F for dealer display areas. These display units are not intended for retail, however some dealers will sell them or give them away free to collectors.
The Open House stand up dealer displays are similar to the postcards mailed by F & F except they are slightly larger and on Riding On The Wings of Friendship there is a white box near the bottom for the retailer to write in their event date.
#81/10 Sports Displayer to display the 8 Sports Figurines
Open House Stand Up Display Advertisement for Riding On The Wings of Friendship
Open House Stand Up Display Advertisement for A Treasure Of Memories (photo coming soon)
(Image may take some time to load. All original photos are the subject of copyright protection.)

Dean Griff Bio Card by Silvestri


(Thanks to Pam Riedinger for the photo)
This card was produced while Charming Tails was manufactured under Silvestri, making its origin before 1996. The card could be found on retailers shelves displayed among the Charming Tails figurines or on a store counter. It outlines Dean's childhood through his creation of Charming Tails.

Charming Tails Mobile
Item # 99/1011
This advertising device can be used in 2 distinct ways. The package contained Mackenzie and Charming Tails cardboard cutouts that were printed on both sides. Holes were punched at the top of the Mackenzie cutout and at the top and the bottom on the Charming Tails cutout.
The package included cardboard easels so the pieces could be used as standups. The package also included a special metal tipped cord plus additional sting so the pieces could be connected to form a mobile.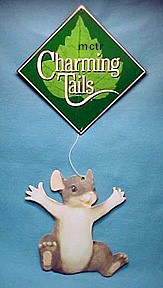 Copyright 2005, Oak Leaf Publishing, Inc. All rights reserved. This web site is unofficial and does not intend to infringe on the rights of Fitz and Floyd or Dean Griff, makers of Charming Tails.
Revised: 02/20/06.