FUN BUTTONS AND STUFF MADE BY OR
GIVEN TO COLLECTORS
Important Note: All original photos are the subject of copyright protection and may not be used elsewhere.
Below are items that were made for Dean by Charming Tails collectors. There are some items that were made we have no photos of. Here are a few:
Book written by a collector and given to Dean during a signing event in Virginia Beach, Dec. 1998. The collector said it was Dean's mice that inspired him to write the book.

Hand painted slate given to Dean during the Oct. 14th, 2000 signing event at the Christmas Dove by mousehunterinhyannis.

Scooter (Carol Burbridge) made these buttons for the 2001 Rosemont Show.


Sharon Gleason aka "Mausnut" gave out this ladybug pin to fellow collectors at Rosemont 2000.
Scooter made these buttons for the 2000 Rosemont show.

Mark made this piece of stained glass for Dean. He gave it to Dean at the Precious Gifts signing in July 1999 that was held in Maryland.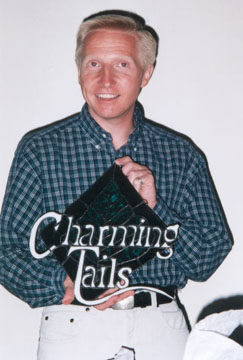 Scooter made these buttons to take with her to the 1999 Rosemont event. Dean even signed them for her!

Joanne Edmondson made several of these large leaf pins for collectors so that they could put all their buttons on it. This was very generous of her, and the gold glitter veining is very detailed and well done. Obviously this one is mine. <g>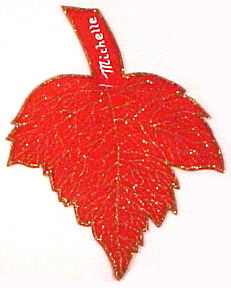 Copyright 2005, Oak Leaf Publishing, Inc. All rights reserved. This web site is unofficial and does not intend to infringe on the rights of Fitz and Floyd or Dean Griff, makers of Charming Tails.
Revised: 02/20/06.