LOCAL CLUB BUTTONS AND STUFF
Important Note: All original photos are the subject of copyright protection and may not be used elsewhere.
New Hampshire Charming Tail-ers T Shirt


This is the design on the front of the T-shirt for the New Hampshire Charming Tails club that is sponsored by The Christmas Dove. You can purchase this T-shirt for $12.00 plus S & H by contacting Jean Banks at cosmo@worldpath.net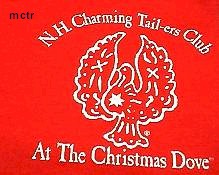 Squashville Social Club 1998
Designed by Dean Griff



Squashville Social Club 1999
Designed by Larry and Kim Wiedemann


The Acorn Gang Charming Tails Club Button 1999
Designed by Bob & Darlene Nelson
(thanks to Phyllis Lester for the photo)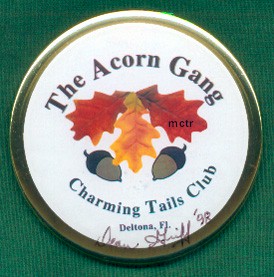 Eastern Conn. Charming Tail-ers Club 1999 Button
Designed by Phyllis Lester
(thanks to Cindy Zugay for the photo)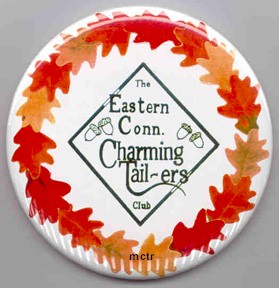 Acorn Pin
This pin is from the Squashville Gang, a local Charming Tails Club in Florida
(date unknown)


Charming Tails Dean Griff Club
from Best of Tymes Collectibles
Dunedin, Florida
(date unknown--store has no more available)

Copyright 2005, Oak Leaf Publishing, Inc. All rights reserved. This web site is unofficial and does not intend to infringe on the rights of Fitz and Floyd or Dean Griff, makers of Charming Tails.
Revised: 02/20/06.